Müesli is a wonderful, healthy alternative to granola. And it's even easier to make than granola, because no oven is involved. Unlike granola, müesli has no added fat or sugar to mess with the goodness of the whole grains, nuts and dried fruits.
For serving, I spoon about 1/2 a cup of müesli over homemade yogurt for my morning breakfast. Add a banana or some berries and you are really set to go for the morning.
And if you are into overnight oats, you can sub müesli for the rolled oats. Just place about 1/2 cup of müesli into a 2 cup mason jar, cover with milk or coconut water, add some yogurt and then top off with your favorite fruit (frozen blueberries are mine). Let sit in the fridge overnight (or two) and you've got breakfast ready for the morning.
This recipe really should be considered as a starting point. You can mix and match your grains, nuts, seeds and fruits as you wish. A good rule of thumb to start with is about 80% grains and 20% nuts and dried fruit, but feel free to play with that ratio. I've added some warm spices to the mix for a little extra depth of flavor, but they can be left out or played with as you like. Here are some ideas for the ingredients to get you started.
Grains: Rolled oats, wheat bran, whole rye, rye flakes, whole barley, sorghum flakes, quinoa flakes, millet puffs, millet flakes, buckwheat groats.
Nuts/seeds: Sliced almonds, walnuts, cashews, pecans, pistachios, hazelnuts, sunflower seeds, pepitas, chia seeds, poppy seeds, sesame seeds, unsweetened coconut flakes.
Dried fruit: Dried apricots, dried cherries, dried figs, raisins, golden raisins, currants, apple chips, dried blueberries.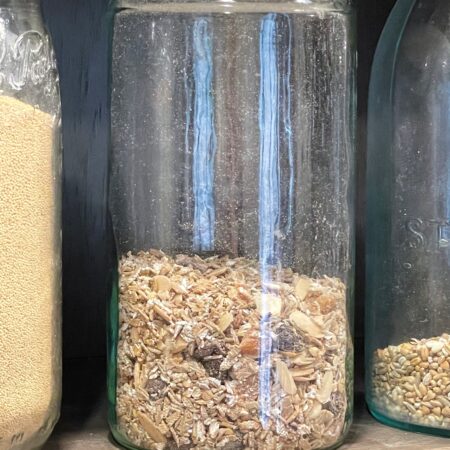 Müesli
Müesli is a healthy, low-sugar alternative to granola. Use this recipe as a starting point to make your favorite combination of grains, nuts, and dried fruits. Serve with milk or yogurt.
Ingredients
1/4

cup

buckwheat groats

1 3/4

cups

rye flakes or rolled oats 

1/4

cup

sliced almonds

1/4

cup

shelled pistachios, chopped

2

tbsp

shelled sunflower seeds

1

tbsp

flaxseed

1/4

cup

dried cherries

1/4

cup

dried apricots, small diced

1/2

teaspoon

ground cinnamon

1/4

teaspoon

ground cardamom

1/8

teaspoon

ground cloves

1/8

teaspoon

freshly grated nutmeg

1/4

teaspoon

kosher salt
Instructions
Combine all the ingredients in a large bowl and stir until well combined.  Store in an airtight container at room temperature for up to six months. 
To Serve
Serve 1/4 – 1/2 cup of muesli with an equal amount of yogurt or milk, a drizzle of honey, and fresh fruit like a sliced banana or berries. 

Müesli also works really well in overnight oats as a substitute for plain rolled oats.