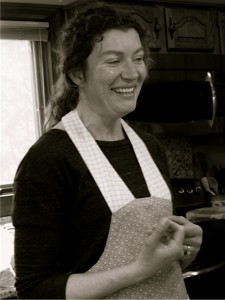 Hi there, welcome to my website and blog.  I'm Andrea and one of my joys is healthy cooking from scratch.  I am a wife and mother of four little boys and I'm dedicated to trying to feed my boys (both the big and the littles) a healthy diet – 90% of the time.  My Kitchen Clatter has been slowly growing in my head and heart for several years and it's fun to finally be sharing it with you.
I grew up on a family farm in eastern Iowa and much of what I do today for my family and friends stems from how I was raised.  My mother was a home economics teacher and was also my 4-H leader for 10 years.  I have fabulous memories of baking and sewing and also of canning and gardening with my parents and grandparents as I grew up.  I also have degrees in agricultural and civil engineering – which partly explains why I love getting into the details of how and why we do what we do in our kitchens.
We live in the suburbs of Chicago, and I know it is possible to teach my children a connection to the land and our food.  We love to visit our local farmers' market, plant and play in our garden, and support our local food co-op.  In my free time, I enjoy running and sewing.  Although, lately most of my running has been after the kids.
If I could choose to spend an afternoon doing anything, you would find me in my kitchen – and I'd probably have four projects going on at once.  I have been making homemade bread for our family since 2010 (although I learned to make pizza dough and cinnamon rolls from my mother eons ago).  In 2013, I started milling my own flour and I use freshly milled whole wheat flour in almost all of my baking.  In 2015, I discovered pressure cooking and love what a time saver it has been for my family.  It's also very important to me to know what foods I'm feeding my family.  We try to limit processed foods and sugar in our diets – despite my sweet tooth.
One of my biggest goals with this website and my small business is to help people make healthy changes in their diets.  We were forced to start eating healthier several years ago when my husband was diagnosed with Type 1 diabetes.  I was fortunate enough to have a background that allowed me to more easily make changes in our food.  But I realize that not everyone has the same basic skills that I grew up with.  Change doesn't always happen all at once – it is a gradual process.  And I truly feel that eating healthier really comes down to learning how to be in control of our food.  Many healthy changes can be easier to implement than people expect, and this is why I teach in-home classes on the things I do in my own kitchen.  This includes milling flour, baking bread, and using a pressure cooker.
I believe in keeping cooking simple and great tasting.  If I can't get a meal on my table within 30-45 minutes, then it isn't going to work for our family – and it probably won't work for your family.  This site is filled with recipes and techniques that I find work for my family.  So if the kids won't eat it or I go crazy trying to cook it, then I won't share it with you.
I hope you enjoy my website and if you have any questions, please email me at dreasbaking@gmail.com.