These are the absolute favorite burger buns around our house. I've tried others – brioche buns, pretzel buns, you name it – but I keep coming back to these. They have a touch of whole wheat flour in them for great flavor, but you can make them with all white flour if that's what you have around the house.
I recommend trying these with barbecue pulled chicken or pulled pork.
I hope you enjoy them as much as we do.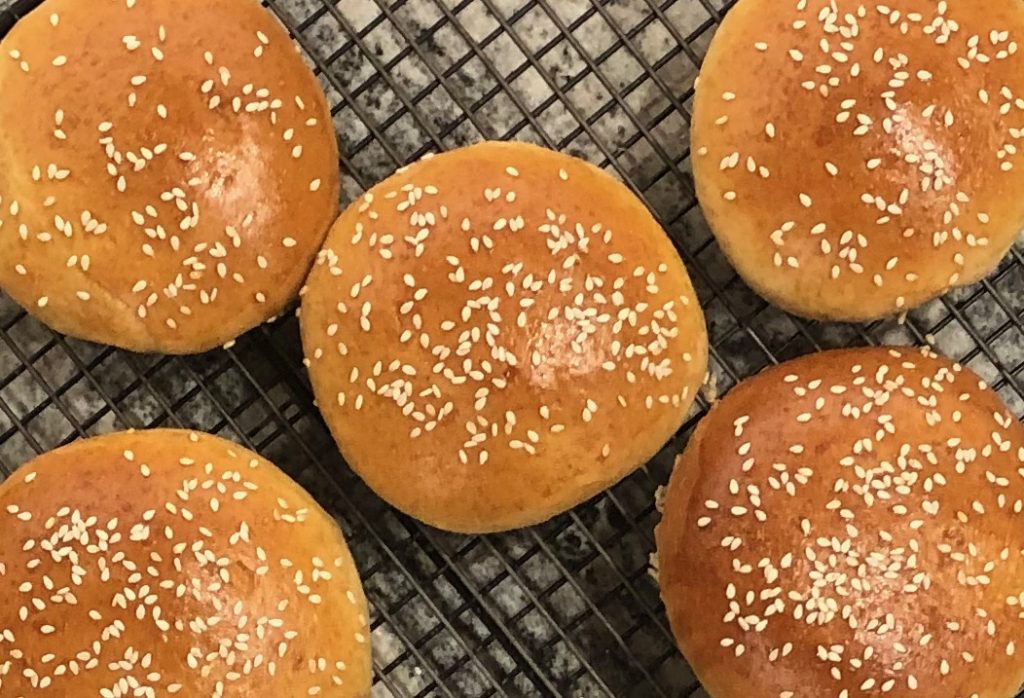 Homemade Burger Buns
Ingredients
1 cup (120 grams) whole grain flour (home ground, if you have it) or sub with all-purpose flour
2 1/2 cups (300 grams) all-purpose flour (such as King Arthur all-purpose)
1 cup (8 ounces) lukewarm water
2 Tablespoons unsalted butter, at room temperature
1 large egg
2 Tablespoons sugar
1 1/4 teaspoons finely ground salt
2 teaspoons instant or active dry yeast
For Topping
1 large egg, beaten with 1 Tablespoon of water for the egg wash
Sesame seeds, poppy seeds, or Everything Bagel Topping, for sprinkling on the top
Directions
Add the water to a large mixing bowl or to the bowl of your mixer. Set aside about 1/2 cup of the all-purpose flour. Add the remaining flour (whole wheat and all-purpose), the butter, egg, sugar, salt and yeast to the water and stir until combined. Add additional flour until the dough forms a ball. Mix and knead until you have a soft, smooth dough. This should take 6-12 minutes depending on your mixer or kneading method.
Place the dough into a lightly oiled bowl and cover. Place in a warm (around 75-80 F), draft free spot and allow to rise for 1-2 hours, or until it is nearly doubled in size.
Gently deflate the dough, and divide into 12 pieces about 60-65 grams each. Shape each piece into a smooth ball and gently flatten out between the palms of your hands. Place onto one or two parchment or silpat lined baking trays. Gently cover the buns (oiled plastic wrap or a large bag works well) and allow them to rise for about an hour, until they are nice and puffy.
While the buns are rising, prepare the egg wash. In a small bowl, beat an egg with a tablespoon of water.
Preheat the oven to 375 F.
When the buns are risen, brush the tops gently with the egg wash and sprinkle with whatever seeds you are using.
Bake the buns in the pre-heated oven for 14-18 minutes until golden brown. Remove them from the oven and cool on a rack.
Extra buns can be frozen when cooled. They will keep for up to three months in a freezer bag. Thaw at room temp for a couple hours (or use a microwave to speed the process) before slicing. They can be warmed, covered, in a 300 F oven.