March & April 2021
---
I'm currently teaching all of my classes virtually through zoom. Much to my own surprise, I've found that I really like this format, since it gives my students a chance to practice the lessons as I teach and ask questions as we go and I'm able to keep the cost reasonable. Most of the Eventbright classes are $25 per household. Follow the links to Eventbright for class descriptions.
Keep scrolling to the bottom of this page for links to upcoming public library classes that I am teaching soon.
Butter Pie Crust & Pie Skills Class – Saturday, April 10 @10:00 AM-12:00 PM –
Whether this is your first time making a pie or if you are looking for tips on improving your pie skills, we will cover it all in this class. Together, we will make my recipe for an all-butter pie crust. While the dough is chilling, we will talk and make pie fillings. You will have the choice of making an apple or a cherry pie. I'll give you tips on stepping up your filling to make it unique and special. While our pies are baking, we will cover what to do with extra pie dough and I will demonstrate making hand pies. You will leave this class with pie confidence. 
Instant Pot Vanilla Cheesecake –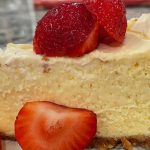 Sunday, April 11 @ 3:00-5:00 PM – If you love cheesecake and haven't used your pressure cooker to make this delicious dessert, then this is the class you've been waiting for! I'll share lots of tips for using the pressure cooker and making a perfect cheesecake. We will talk about how to use this basic recipe to expand into more flavors, such as key lime, mint chocolate chip or gingerbread. We will also talk toppings and make a carmel sauce together. By the end of class, you'll have made a cheesecake and be ready to impress your family. Be warned that the cheesecakes taste best after a good long chill time in the fridge. A break will be scheduled during the cooking time. 
Oatmeal-Potato Bread and Mixed Berry Jam – Saturday, April 17 @ 1:00 – 4:30 PM –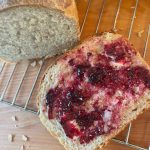 I'm not going to lie – I think this bread is amazing. It is a great bread for the beginning baker because – simply stated – the recipe works. For those of you who are expanding your bread baking, this recipe delves into whole grains and also features a technique that I love in my breads – the trick of using mashed potatoes and their baking water in the dough. While the dough is rising, we will mess around a bit on the stovetop and make a small batch of mixed berry jam. This is going to be fun and productive class. 
Croissants Course – Friday, April 23 @ 7:00 PM-7:45 PM, Saturday, April 24 @ 10-11:30 AM, and Sunday, April 25 @ 9:00 AM -12:00 PM –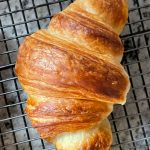 Mark your calendars! – This is a three part course and we will break down all of the steps in making croissants into approachable lessons. If I can learn how to make laminated doughs, then I'm confident that you can too. Taken step by step, croissants can be achievable to anyone who is willing to make the effort. There will be scheduled breaks on Saturday and Sunday for resting and rising times. If you cannot make all three parts of this course, please contact me and we can arrange video links to the missed portions. 
Basic Cook Along Class Info
Class sizes for bake along and instant pot class are limited to 10 participants.
Unless otherwise indicated, class cost is $25, per household.
Follow the above links to register through Eventbright.
All of my classes are beginner and youth friendly, unless otherwise stated. I welcome all ages in my classes. If you have any questions, please reach out to me. 
Please have ingredients measured out prior to class. If you have a kitchen scale, use it. Otherwise, otherwise, volume measurements will be provided, in addition to weight measurements. 
Good bread takes times. Some classes will require preparation for class. Please read the class instructions in your registration email for more information. 
Breaks are built into some of the bread classes during the rising times. You can log off during the break, or grab a cup of coffee and chat. 
Other than a good kitchen knife, I try not to use require speciality equipment or ingredients in my classes. While they are nice and useful, I believe most speciality tools in our kitchen can be replicated with basic equipment. I don't want you to feel the need to buy anything special to get through a class. On the occasion that there is something I don't think every kitchen has, I will note it in the class description.
All published classes are held from my home in Crystal Lake. If you'd like a private class with your own group of friends, please contact me for more information.
Free Public Library Classes
* Follow the links for class and registration information.
Instant Pot 101 – Grayslake Area Public Library – Wednesday, April 7 @ 7:00 PM – Sloppy Joes
Instant Pot Basics – Blue Island Library District – Wednesday, April 21 @ 7:00 PM – Cheesy Chili Mac
Air Fryer Basics – Bartlett Public Library – Monday, April 26 @ 7:00 PM –