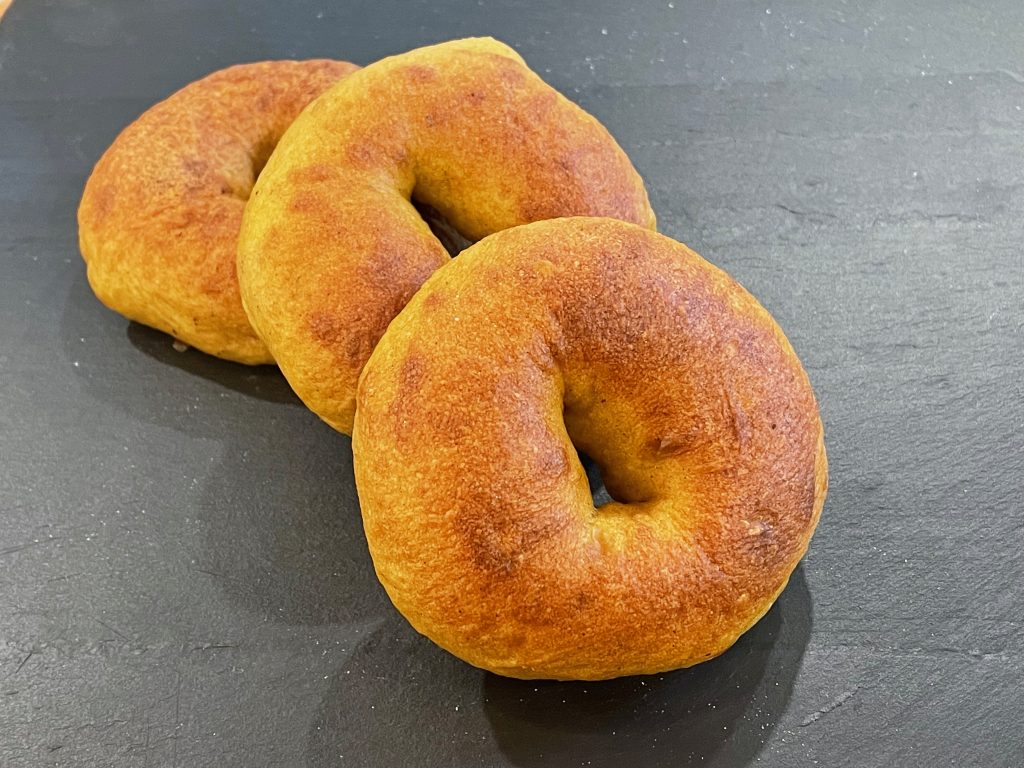 I have lots of things to say about these pumpkin spice bagels, but lets start with – they are AMAZING and EASY. I hope you give them a try.
Quick & Easy – Start to Finish in under 3 hours
First off, this recipe is quick and easy as far as yeast breads and bagels go. My go-to standard bagel recipe uses a sponge and an overnight proof in the refrigerator – these things help develop flavor, which is necessary when we are working with so much white flour. But here, with these pumpkin spice bagels, we have added flavor in the pumpkin and spices. So, we are going to skip the long proof and make these bagels in a morning. From start to finish, you can have a hot bagel in your mouth in under 3 hours.
That being said, you can still choose to make the dough the night before. Just follow the recipe up to the point where you let the dough rise at room temperature for an hour. Instead of doing the the room temperature rise, pop the dough into an oiled bowl, cover, and put it in the fridge overnight. In the morning, pull the dough out and follow the shaping and cooking instructions.
Mix by hand or with a Stand Mixer
Bagel dough should be a tight dough. The dough should be soft, but not sticky. It is a lower hydration dough, which helps give a nice dense texture to the bagel. You will want to add as much flour into the dough as possible without drying out the dough. The easiest way to mix bagel dough is to use a stand mixer and let the dough knead for about 8 minutes. If you are kneading by hand, you'll want to knead the dough for about 15 minutes. Expect to get a good shoulder workout if you are kneading by hand. You are looking for the dough to be smooth, and not sticky.
I use homemade pumpkin puree in this recipe. Sometimes the moisture content varies in the puree, so it's important to adjust the flour accordingly. If you are using canned pumpkin, your moisture content will be a bit lower, and you'll use a little less flour in the recipe.
Some other tips
This recipe calls for bread flour. I like King Arthur's bread flour with a 12.7% protein content. This helps to give a nice chewy bite to the bagel. If you don't have bread flour, substitute with King Arthur's all-purpose flour. I recommend King Arthur's flours because they have high protein content, which helps with successful and consistent yeast breads. Feel free to substitute whatever flour you can access, but be aware of the difference that protein content can make in yeast breads.
This recipe makes 10-12 nice medium-sized bagels. You can make them larger or smaller as you wish. If you are using a scale: 4.5 ounces makes a large bagel, 3.5 makes a medium, and 2.5 makes a smaller bagel. Boiling and baking times are the same no matter the size.
Shaping the bagels takes practice. Don't stress out if you don't get it right away. I recommend pre-shaping them into balls, letting them rest 10 minutes, and then shaping the bagels by poking a hole in the middle and rolling the bagel around your fingers. The pre-shaping into balls helps get a round shape. You make the balls by pinching the dough to a point, making a smooth ball, sort of like a dumpling. With the pinched part on the counter and your hand cupped over the ball like a claw, give it some movement with your hand to seal the pinched part closed. Once you have the balls made, cover them and let rest for ten minutes. The rest allows the dough to relax so it will shape nicely into the final bagel shape. After resting, I just poke my finger into the middle of the ball and start rolling the dough around my fingers. Make the hole larger than you think you need, because it will shrink during the cooking.
We boil these bagels in a baking soda mixture before baking. This helps with creating a chewy crust and a traditional style bagel. Don't skip this step. The bagels will puff up while boiling and it's a lot of fun to watch.
Any bagels that we don't eat right away, go into the freezer. I hate stale bread. Some people will be fine with letting these sit on the counter for a couple days, but anything longer than that should go in the freezer. Just pull them out one by one, thaw in the microwave for a few seconds, slice and toast. Perfect.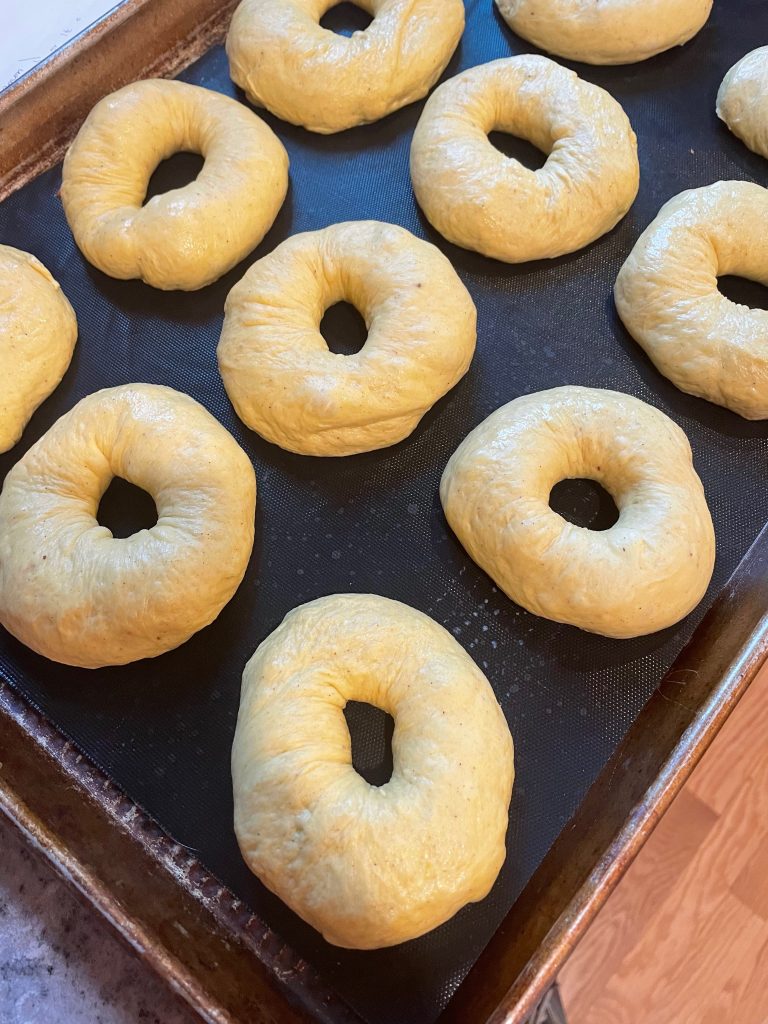 Pumpkin Spice Bagels
Ingredients
1 cup water, room temperature
1 cup pumpkin puree
1 1/2 t instant yeast
3 3/4 cup (15 ounce) + 1 cup (4.5 ounce) bread flour
1 1/2 t salt
1/2 t cinnamon
1/4 t nutmeg
1/4 t allspice
1/8 t cloves, ground
1 T brown sugar
Directions
Combine all ingredients except flour in the bowl of a stand mixer or large bowl, if you are mixing by hand. Add in 2 cups of your flour and stir. Continue adding remaining 1 3/4 cup of flour until dough is formed. If your dough is still sticky and not forming a ball, then add remaining 1 cup of flour, 1/4 cup at time until the dough comes together in a ball. It may still be sticky, but it should form a ball. Knead for 8 minutes by machine or 15 minutes by hand. While you are kneading, the dough should come together in a smooth, soft ball and not be sticky to the touch.
Cover the dough, and allow to rise at room temperature for about an hour and a half until the dough has almost doubled in size. At this point, instead of rising at room temperature, you could cover the dough and refrigerate up to 12 hours until you are ready to bake.
When the dough has risen, gently turn out onto an oiled surface and divide into about 12 pieces for medium sized bagels.
Preshape the dough into balls. To do this, form each piece into a ball by pinching the ends together at the bottom (like a little dumpling) and then rolling the pinched part on the counter to seal the bottom. Cover balls and allow to rest 10 minutes.
Shape the balls into bagels by poking a hole through the middle of each ball and rolling the dough around two fingers until a large hold is formed in the middle. The hole will shrink while baking.
Cover the shaped bagels and allow to rest for about 30 minutes.
While the bagels are resting, preheat the oven to 400 degrees and bring a large pot of water to a boil. An ideal pot should be wide to fit 4 or 5 bagels, but the water depth only needs to be a couple inches deep. Prepare two baking sheets by oiling or lining with oiled parchment or silicon baking sheets.
After the bagels have rested, with the water boiling, add 2 Tablespoons of baking soda to the water. It will foam up temporarily.
Gently slide a bagel into the boiling water. It will float. You can boil as many bagels at a time that will fit comfortably into your pot – usually 3 to 5. After 30 seconds, turn each bagel. After another 30 seconds, pull each bagel out with a slotted spoon. Place bagels onto prepared pan. Continue to boil all the bagels.
Bake the bagels about 15 minutes until they are lightly browned on the top, rotating pans halfway through the baking time.
Serve with cream cheese or use for sandwiches. Extras that don't get eaten right away should be cooled and frozen. They will keep about 3 days at room temperature or up to 3 months frozen.