This recipe for vinegar based coleslaw is so delicious and easy. You may never go back to the store bought stuff again. Try it with your favorite barbecue recipe. It is perfect on pulled barbecue chicken or pulled pork. Personally, I like it as an easy side to any picnic. And I've been known to snack on the leftovers straight out of the bowl.
In my opinion, the best part of this recipe is that you can control the sugar and fat. The store-bought versions never taste just right to me, probably because they are loaded in sugar.
If you have a food processor or grater attachment for your mixer, this is the time to get it out. A mandolin with a shredding blade would be a good friend to this recipe also. But you can definitely use a sharp knife to slice the veggies. It doesn't take that much time and there are no hard and fast rules of how finely cut anything needs to be. The main tip that I have is that you try to cut all the veggies to the same width. Of course, there is one easy time saver – just substitute with a bag of coleslaw mix and make the dressing. You'll save lots of time and still have the big health advantage of making the homemade dressing.
If you don't have all of the veggies called for in the recipe, you can adjust the recipe to whatever you have on hand. No green onion? Use a little red onion. No green cabbage? Just use all red cabbage. You get the idea. I only had green cabbage when I made it for this post, so there you go.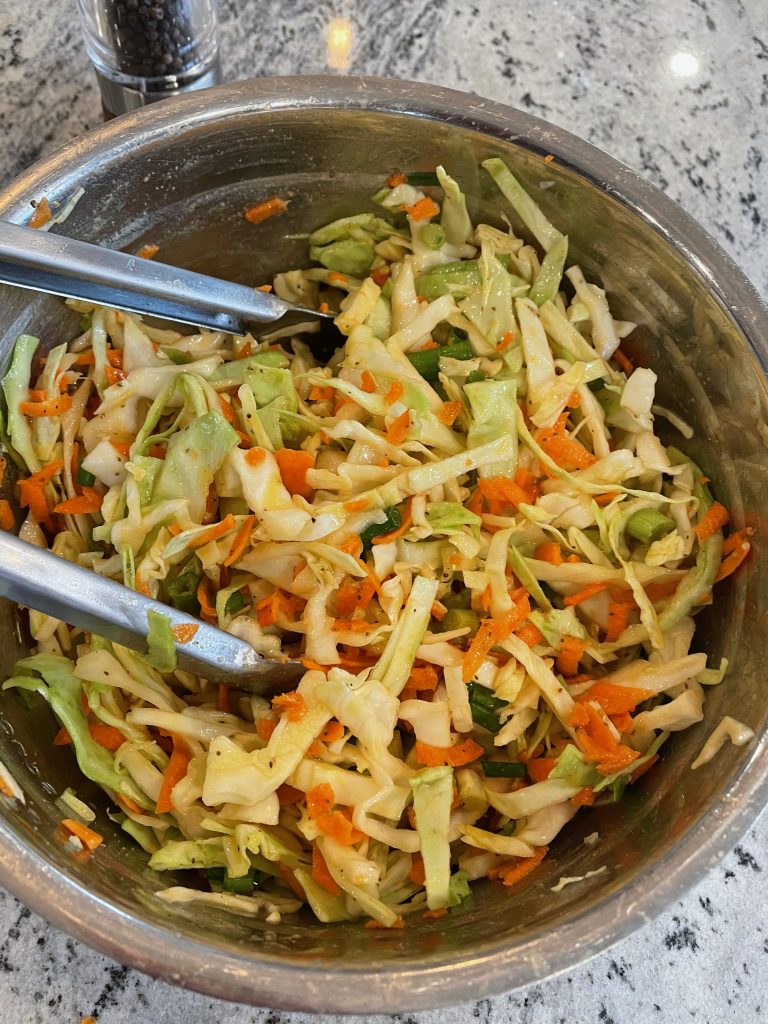 Vinegar Based Coleslaw
Dressing Ingredients
1/4 cup of apple cider vinegar
1 T of dijon mustard
1 T of honey or 1 teaspoon of sugar
1/4 cup of olive oil
1 teaspoon of celery seed
kosher salt and pepper, to taste
Salad Ingredients
1/4 of a green cabbage
1/4 of a red cabbage
2 whole shredded carrots
3 thinly sliced green onions
Directions
To make the vinaigrette, add the vinegar, mustard, and sugar to a small bowl. Whisk while slowly drizzling in the olive oil until emulsified and then finish with celery seed, salt and pepper. Taste to see if you like the sweet/sour flavor. Add a little vinegar if you want it more sour or more sugar if you want it a little sweeter. If the flavor seems flat, try adding a little salt.
Cut the cabbage in four quarters and remove the core. Chop the vegetables and add to a large bowl. Season with celery seed, salt and pepper and toss everything together.
Pour the dressing over the veggies and toss together. Tongs or your hands work really well to toss.
This salad is best if you make it an hour or two before you want to serve it. If you want to make it much further ahead of time, keep the dressing and veggies separate and toss together a bit before you want to serve.