This is a super easy way to make barbecue chicken for an quick dinner. It's a nice summer recipe and the pressure cooker has the added advantage of not heating up the kitchen.
With this recipe, you just throw everything into the pressure cooker and let it do its thing. The recipe calls for a natural release of 10 minutes. But if you have other things going on, you can easily let the pot go into the keep warm setting after cooker.
Be sure to use a barbecue sauce that is on the lower end of added sugar. The sugar seems to concentrate in flavor when its under pressure. I used our favorite Trader Joe's sauce for this post, but you can you anything you have around. Even a homemade sauce, if you have one.
I alway like to serve a vinegar based slaw with barbecue. And of course, a really good bun takes these sandwiches to another level. Making homemade buns takes a little more planning, but I think they are worth it. My recipe makes 12 buns, which gives a few extra to throw in the freezer for a future menu.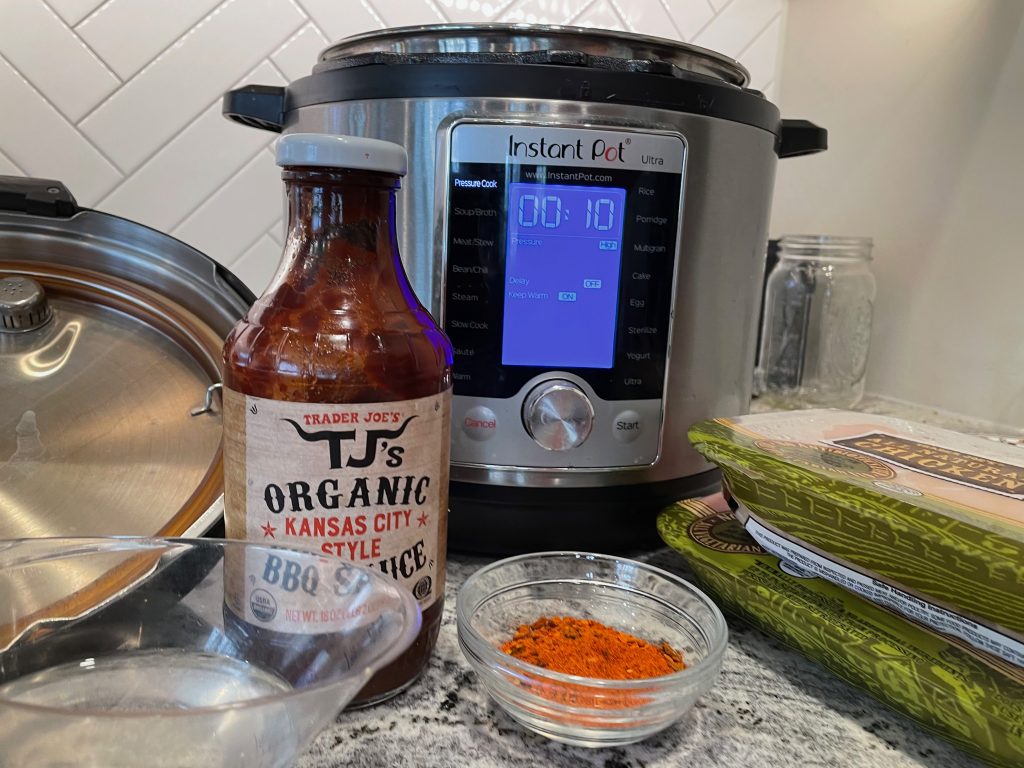 Instant Pot Pulled Barbecue Chicken
Ingredients
3 lbs of boneless, skinless chicken breasts and/or chicken thighs
3 T of barbecue seasoning
1/4 cup of chicken broth or water
1 cup of your favorite barbecue sauce
For Serving
Extra barbecue sauce
Pickles
Sandwich buns
Directions
With the insert in the electric pressure cooker, add the chicken to the pot. Add the seasoning and toss the chicken in the seasoning. Add the water and barbecue sauce.
Lock the lid on the pot.
Cook at high pressure for 10 minutes.
Use the natural-release method for 10 minutes, then use the quick release method to bring the pot's pressure back to normal.
Unlatch the lid and open the pot, remove the chicken to a cutting board and allow to cool for a few minutes. Use two forks to pull the chicken apart. You can also use a mixer with the dough hook to shred the chicken. Add some of the cooking liquid back to the pulled chicken – just enough to keep it moist. If you like a stronger barbecue flavor, you can toss the cooked, pulled chicken in barbecue sauce to taste.
Serve on buns with toppings of your choice.