These air fried potatoes are so simple – they make for an easy beginner recipe using an air fryer. Added bonus – the kids like them. I have taught this recipe several times now as one of my library courses. The recipe lets me focus on the features of the air fryer, and sometimes, I think I forget about how great the actual fries are.
Russet potatoes are great for these fries. The outside gets nice and crisp while the inside gets kind of melty. If you don't have russets around, try it with whatever potatoes you have. I'd love to hear your findings on different potato types.
If you do not have an air fryer, you can cook the potatoes in a 400 F oven (use the convection setting, if you have it). They don't get as crispy in the oven, but it will still work.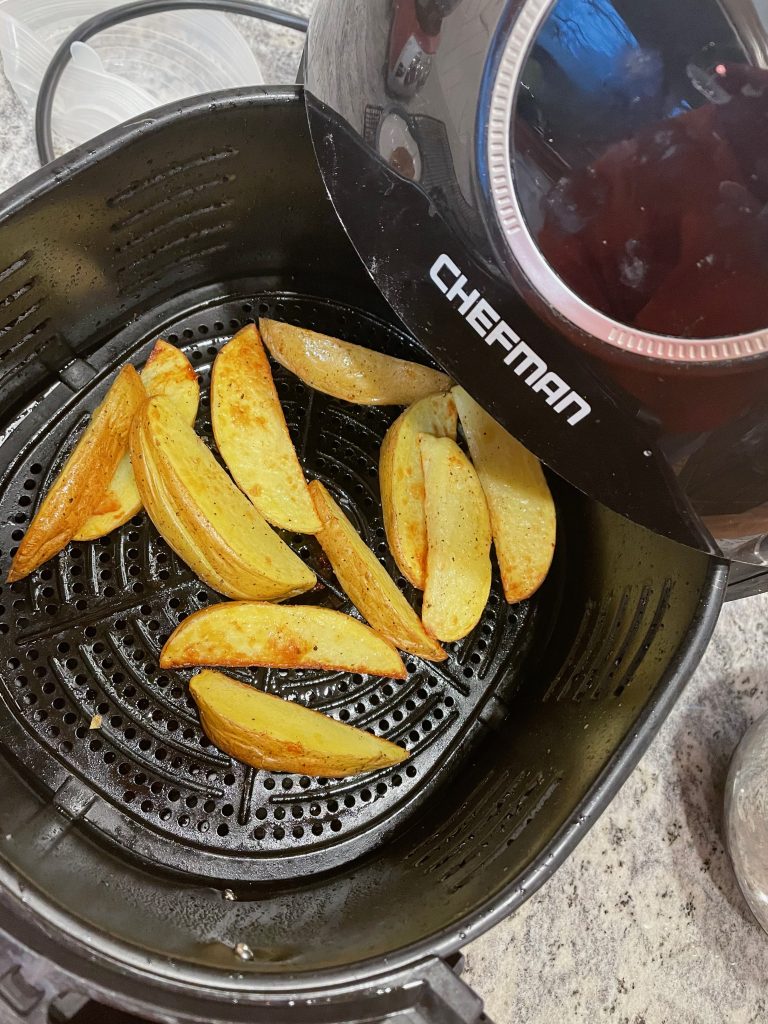 Air Fried Potato Wedges
Ingredients
2 medium russet potatoes, scrubbed
1 1/2 Tablespoons olive oil
1/2 teaspoon paprika
1/4 teaspoon garlic powder
1/8 teaspoon cayenne pepper (optional)
1 teaspoon fine salt
1/4 teaspoon ground black pepper
To Serve (optional)
1/2 cup parmesan cheese
1 Tablespoon chopped parsley (or 1 teaspoon dried)
ketchup or ranch for dipping
Directions
Slice the potatoes in half lengthwise. Then put the cut side down and slice in half lengthwise again to make quarters. Place each potato quarter cut side up and create wedges along the long length.
In a large bowl, combine olive oil, paprika, garlic powder, cayenne pepper, salt and black pepper. Add the potato wedges and toss to coat the potatoes with oil & seasoning.
Place wedges in the basket of the air fryer in one layer. and cook for 12-15 minutes at 400F. No need to preheat the air fryer. Shake the basket and check for browning every 5 minutes. Depending on the size of your air fryer, you may need to make two batches.
While potatoes are cooking, combine grated parmesan cheese and parsley.
When potatoes are golden brown and crispy, remove from air fryer and toss with the parmesan and parsley.
Serve with ketchup or whatever dipping sauce you prefer.