This recipe uses the tangzhong method of heating a small portion of the liquid and flour together to form a paste. This simple step allows the starches in the flour to gelatinize and gives the bread dough a little different texture than a typical dough. I feel the tangzhong method allows you to work with a slightly wetter dough than normal, which creates a softer end dough. Because of the tangzhong method, the final bread will have a slightly higher rise and better shelf life.
Let's talk a bit about flour. This recipe calls for bread flour – but if you don't have that handy, you can use a good strong all purpose flour. King Arthur's all-purpose flour (in the red bag) works well in this recipe. Be aware that not all flours are created equal – some all purpose flours will have a lower protein level which result in less rise of the final dough. If you find yourself disappointed in the final results of any bread recipe, I always recommend looking at the flour you are baking with.
Most of you know by now that I really like a little flavor in my breads. Even with cinnamon rolls, I find that substituting a small portion of the white flour with a good whole grain flour adds a beautiful amount of flavor to otherwise bland white bread. About 10-20% of the white flour can be substituted with spelt or a whole wheat flour. For these cinnamon rolls, I often use 50 grams of spelt flour and 250 grams of white flour in the main dough.
And my final comment on flour – if you are measuring by volume, use the stir and scoop method to measure the flour. With a large spoon, stir your flour in it's container. Then, using the spoon, scoop it gently into the measuring cup until the measuring cup is overfull. Then, use a straight edge to level off the top of the measuring cup.
This dough will be very wet. You will be tempted to add more flour. Don't do it. Trust me. The dough will come together as it is kneaded. If kneading by hand, you may need to use a bench knife to scrape the dough off of the board and back into the dough mass. A slap and fold technique is probably the best way to knead this dough together. If this is a new kneading technique to you, there are lots of YouTube videos out there with demonstrations – this one from Richard Bertinet is one that I like. His method is not exactly the same as mine, but the idea is the same. At around 3 minutes, this YouTube video from Chew-y Bakes shows a similar method to the one I use.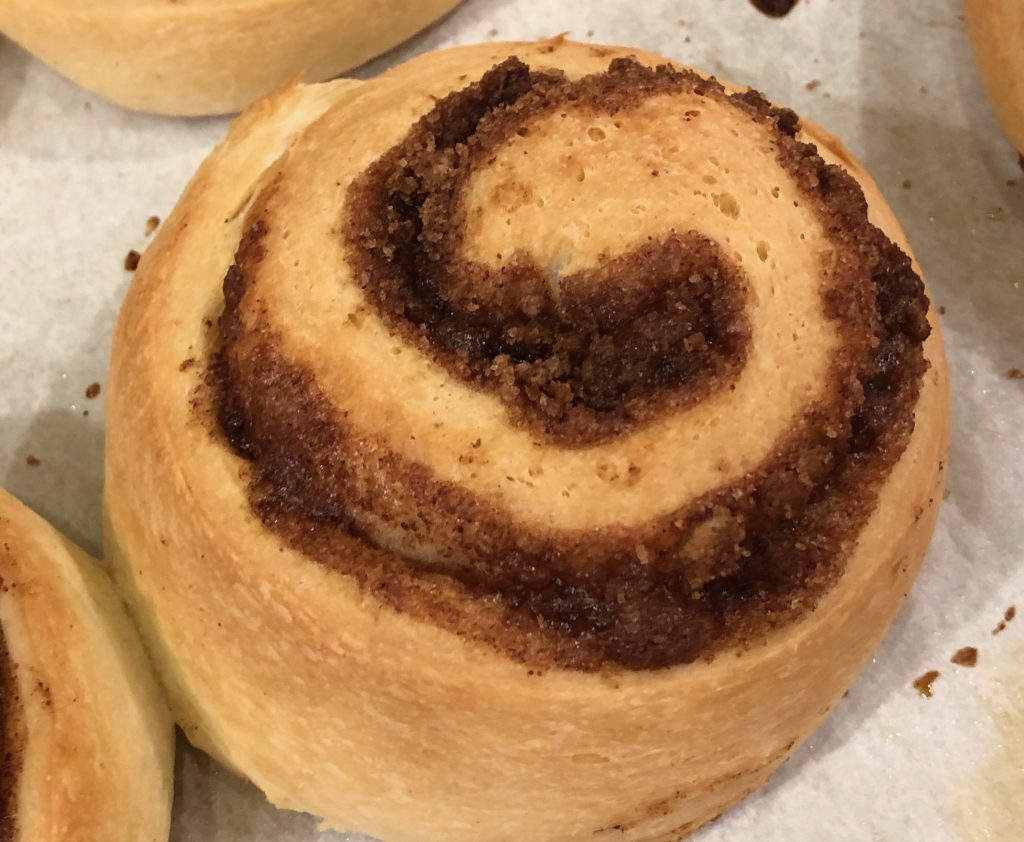 Homemade Cinnamon Rolls – Tangzhong Method
Ingredients – Tangzhong
113 g (1/2 cup) whole milk
23 g (3 T) bread flour (or all-purpose flour)
Ingredients – Dough
151 g (3/4 cup) whole milk (cold from fridge, is fine)
28 g (2 tablespoons) butter, unsalted
63 g (3 tablespoons) honey
6 g (2 teaspoons) instant yeast)
300 g (2 1/2 cups) bread flour (or all-purpose flour)
8 g (1 1/2 teaspoons) fine table or sea salt
Ingredients – Filling
84 g (6 tablespoons) softened butter, unsalted
107 g (1/2 cup) brown sugar
8-10 g (3-4 teaspoons) cinnamon
Ingredients – Frosting
2 cups powdered sugar
1 teaspoon butter, softened
2-4 tablespoons Half and half or whole milk
1/2 teaspoon vanilla extract
dash of almond extract, optional
Directions
Combine the tangzhong ingredients in a small saucepan. Whisk so no lumps remain. Heat over medium heat, stirring constantly until it thickens and your spoon leaves a trail through the mixture. Remove from saucepan and put into the bottom of your mixing bowl or stand mixer.
Add remaining dough ingredients to the stand mixer in the order listed. The warmth of the heated flour & milk mixture will heat the cold milk and dough.
Stir the ingredients together to form a shaggy mass. If you are using a stand mixer, turn the mixer to low and allow to knead for 6-8 minutes. If you are kneading by hand, turn the dough onto the counter and knead for about 10 minutes. The dough will be wet and will seem like it needs more flour. Don't add more flour – it will come together as it is kneaded. If kneading by hand, you may need to use a bench knife to scrape the dough off of the board and back into the dough mass. A slap and fold technique is probably the best way to knead this dough together. Once the dough forms a smooth ball and passes the window pane test, it is ready for the first rise.
Oil the dough and place in a warm (80 degrees F), draft free spot for about 90 minutes until it is almost doubled in size. This is a slow rising dough. It may take longer to rise. If you are tight on time, you can put the dough into the fridge at this point (before it has risen completely) and hold it up to 24 hours. Then continue with the rest of the recipe.
While the dough is rising, combine the filling ingredients in a small bowl – butter, brown sugar and cinnamon to make a crumbly paste. When the dough is finished rising, gently turn out the dough onto your work surface. You may oil the work surface, but avoid flouring the surface. Shape the dough into a large rectangle about 12 inches by 18 inches with the long side facing you. Sprinkle the filling all over the dough, leaving about an inch along the long edge (towards you) free of filling – this is to allow you to seal the dough together in the next step.
Starting from the long edge away from you, roll the dough gently towards you. When the dough is fully rolled, seal the edge (this should be the edge with no filling) to the roll by gently pinching. Using a bread knife or a long piece of string, slice the dough into rolls. 8 rolls will produce nice large cinnamon rolls, but you can make smaller ones if you like (I usually make 12 smaller rolls). Place the rolls onto a baking sheet lined with parchment. Tuck the tails of the rolls under the roll so they don't pop out when they bake. You can also place them into a cake pan, if you prefer – this will make pull apart rolls (expect these rolls to need a little extra cooking time). If you would like to bake the rolls the next day, or in the morning, you can cover the rolls at this point and place in the refrigerator for up to 12 hours. They will be ready to go into the oven when you pull them from the fridge.
Cover lightly with a clean kitchen towel or oiled plastic wrap. Place in a warm spot to rise. Rolls will take about 20-30 minutes to rise. About 15 minutes before you expect the dough to be finished rising, preheat the oven to 375 degrees. When the dough is risen, you'll be able to gently push your finger into the dough, it will leave an imprint and the imprint will slowly bounce back.
Bake in a 375 degree oven. 15-20 minutes for rolls baked on a baking sheet. Rolls baked in a cake pan will take about 30 minutes to bake. When done, the rolls will be golden brown. If you have an instant read thermometer (I use a Thermapen brand), it should read about 190 in the center of the pan of rolls.
Combine the all frosting ingredients except the milk. Sifting the powdered sugar and using very soft butter will help reduce lumps. Whisk together and slowly add the milk one tablespoon at a time until you have a consistency that you like. Frost the rolls when they are warm or cooled.
Enjoy!