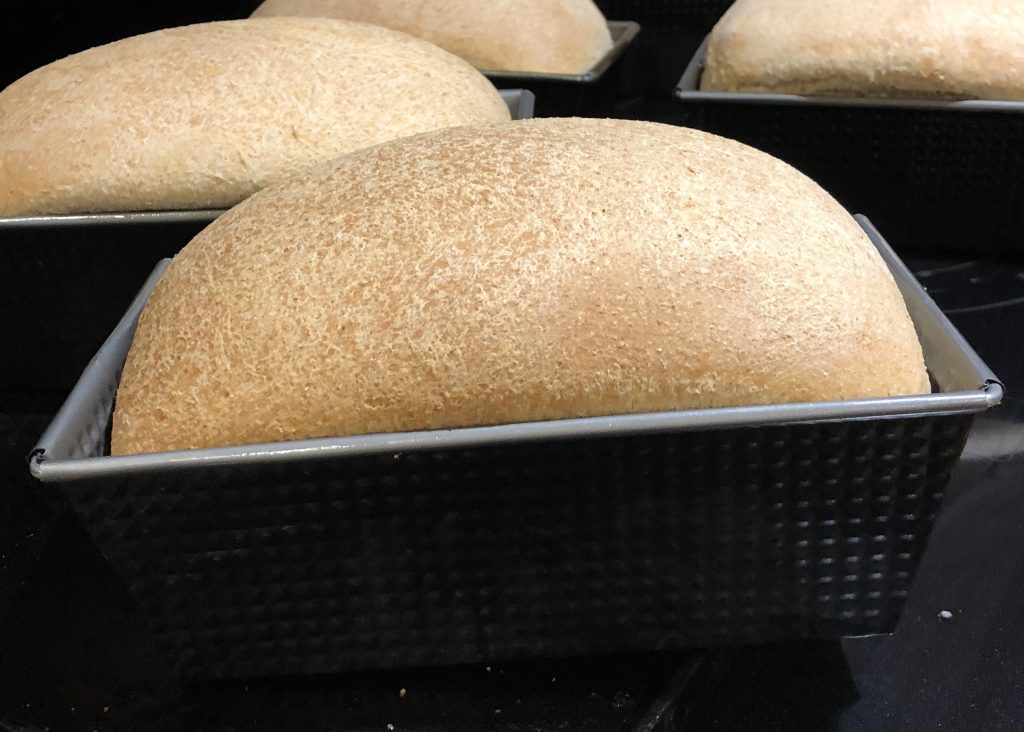 This is essentially the same recipe that I teach in my bread classes, but it is adjusted for a smaller capacity mixer than the Bosch Universal or Ankarsrum.
The real trick to making this 100% whole grain bread work is using freshly milled flour.  If you try making this with store bought flour, it will end up being a very dense bread.  Consider yourself warned!
This recipe will give you a soft, beautiful loaf – just perfect for sandwiches.  And so much more nutritious than anything you can get from the store.  Enjoy!
Whole Grain Sandwich Bread Small Batch
Author:
Prep time:
Cook time:
Total time:
For those of you who are milling your own flour but are using a mixer other than a Bosch or Ankersrum, this is a method for making two loaves of whole grain bread. The results will be similar to using one of my mixers, but you'll have a little more time involved. Win some, loose some!
Ingredients
2 cups of warm water (bath tub temp)
2 t instant yeast
2 T vital wheat gluten (optional, but helpful if you have it)
2 T dough enhancer (optional, but helpful if you have it) or substitute with 2 T unpasterized apple cider vinegar
1/4 cup of honey
1/4 cup of coconut oil
2 t salt
1/2 cup of white flour
6 cups of whole wheat flour, approximate – freshly milled is best
Instructions
Combine water through coconut oil in the bowl of a stand mixer.
Add white flour and 2 and 1/2 cups of whole wheat flour and stir till combined.
Stir in salt and 1 more cup of the flour.
With machine running, add remaining flour until the dough is soft and not too sticky.
Allow wet dough to rest for 10 minutes. This allows the flour to hydrate.
Knead for about 10-12 minutes on the lowest mixer setting, until the dough is smooth and passes the window pane test.
Place the dough in an oiled pan and let rise, covered, until about doubled in size.
Gently deflate dough and shape into two loaves (8.5 x 4 pans work best for whole grain breads), oil tops of loaves with a small amount of olive oil or cover gently with a towel.
Let rise a second time until the dough is about 1 inch above the lip of the pan.
Bake in a 350 degree oven, 30 minutes, until golden brown.
Remove loaves from pans immediately and cool on a cooling rack.