Equipment
I am an authorized dealer for Bosch, Nutrimill, Ankarsrum and Fagor appliances. I use all of these appliances in my everyday cooking and I show you how to use them in my classes and demonstrations.
I believe that anyone who bakes with any frequency should have a quality mixer.  It wasn't until I discovered the Bosch Universal a few years ago that I realized that not all mixers are made the same. The Universal can handle up to 15 pounds of whole wheat dough without blinking an eye – it is a real workhorse in my kitchen. The Ankarsrum Assistant offers everything the Universal does, in addition to being a little quieter and sleek. I love showing people what these mixers can do. And while they are both large capacity mixers, they skillfully handle small tasks just like they do larger tasks. They will change what you can do in your kitchen.
I began milling my own flour in 2013.  Freshly milled flour was a total game changer for me and my baking.  Before I started milling whole wheat flour, I would add a small amount of store bought whole wheat flour into my breads because I thought it was healthier – but I hated it because it changed the textures of my dough and made it difficult to get good rise.  This is not the case with fresh flour.  I love the two mills that I carry and I love to teach people how great whole wheat flour can taste.  And don't get me started on how much healthier fresh whole grain flours are for your family.
I began pressure cooking in 2014.  I've tried several different pressure cookers and finally settled with the Fagor line of pressure cookers. I like that Fagor offer a great balance between cost and quality product. Once you see what you can do with a pressure cooker, I believe you will love pressure cooking as much as I do. My pressure cookers are probably my number one appliance in my kitchen. I use a pressure cooker almost daily.
Click on the links below for more information on my favorite equipment.  If you are interested in purchasing any of these items, please contact me directly for more information.  I would also love to welcome you into my kitchen to learn how to make any of these products work for you.
Kitchen Machines – besides being a mixer, these machines can do so much more. Ask me about attachments including blender, meat grinder, citrus juicer, pasta press, and berry press.
Flour Mills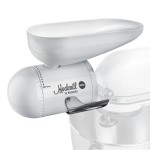 Pressure Cookers – Electric