Baking Classes
I offer baking classes for all skill levels – whether you are new to baking and yeast dough or have been making bread for years.  In my baking classes, we use freshly milled whole grain flours and I focus on teaching you how to easily and successfully use these flours.  I know that we are all busy and it can be a challenge to get healthy food on the table.  Food has to taste good, be healthy, and be easy to prepare. I teach you methods that I've found to work for my family that save time while avoiding the high sugar, processed foods from the grocery store.
Classes are only $20 a person.  Class size is limited to 6 people.  You can schedule a private class (you and your friends in your home or mine) separate from my regular scheduled classes or  you are welcome to join in one of my regular scheduled classes at my home.
Classes will include a how-to demonstration with hands-on instruction.  I also give you the recipes that we make.  We will cover flour milling and baking tips.   I will go over tricks to help you be successful in your own kitchen.  Maybe most importantly, I will cover common mistakes that I've made so that you don't have to learn the hard way!  I will also help you trouble shoot any problems you have already experienced.
Whole Wheat Sandwich Bread
In this class, we use my Nutrimill grain mill to make whole grain wheat flour and the we use the flour to bake sandwich bread and cinnamon rolls. You'll learn how to mill your own flour – the Nutrimill can mill 20 cups in about 12 minutes.  I'll also show you show how I use my Bosch Universal mixer to make up to six loaves of bread at a time. Besides baking some AMAZING bread, you'll learn how easy and healthy it can be to make homemade breads in only a couple of hours a week.  Everyone always goes home from this class with some cinnamon rolls to share with friends and family.
Please call 815-529-6954 to sign up or email me at dreasbaking@gmail.com
Sourdough Class
Do you love the taste of sourdough, but have never known how to recreate it in your own kitchen?  Sourdough depends on natural yeasts to raise your breads and baked goods and is one of the oldest and most traditional ways of baking.  Because of the long fermentation times, sourdough breads more easily digested by our bodies.  Combine sourdough with freshly milled whole grain flours and you have one of the healthiest foods available.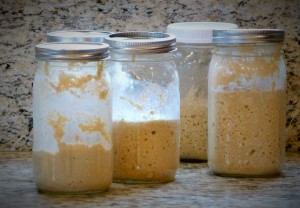 In this class, we will use sourdough starter to make whole wheat English muffins and a whole grain sandwich bread.  You will get hand-on practice at shaping and pan cooking the muffins on a cast iron skillet.  These English muffins are an all-time favorite in our home and you may never buy English muffins again once you learn how easy and fun it is to make them!  I'll share tips on how to start with sourdough, how to care for your starter, and what to do with any extra starter from feedings!
Call me at 815-529-6954 or email me at dreasbaking@gmail for class schedule.  I typically hold this class every few months and it is always very popular.  If you are interested in this class, be sure to be on my email list for current class schedules.
No-Knead Bread Class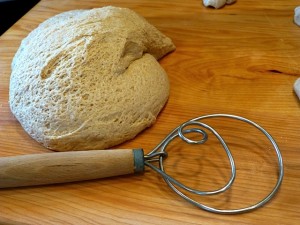 Flour, water, yeast, and salt.  That's it!  No fancy ingredients, skills, or equipment needed. Well, maybe you will want a Danish dough whisk once you see how great they work, but that's it. This is a great bread for first time bakers and is also the perfect bread for smaller families.  It's also my favorite bread for grilled cheese.  I love this bread because it uses no additional sugar and has a low glycemic index.  The recipe I teach uses a two day rise process, but hands on time is about 10 minutes. It's also a very flexible recipe – once you master the basics, you can try different flours (such as rye or Kamut), modify it to sourdough, or add mix-ins like sunflower seeds, flax seed or raisins.  When I teach the class, I will show you the dough at each of its important stages – mixing, rising, shaping, and baking – so you can go straight home and start a loaf that night.  During the class, we will bake a loaf and taste it warm out of the oven.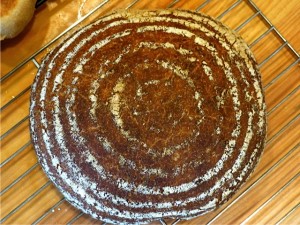 The class fee includes recipes and directions.  Call me at 815-529-6954 or email me at dreasbaking@gmail for class schedule.
Flour Power Class
If you are interested in seeing how converting from white flour to freshly milled flour will affect your baking, then this class is for you.  Did you know that white flour is one of the most processed foods in the grocery store?  The processing removes the majority of During the class, I will take one or two favorite recipes from the students and together we will convert it to whole grain flour.  Some examples may be chocolate chip cookies, banana bread, or waffles.
Call me at 815-529-6954 or email me at dreasbaking@gmail to see what classes are on the schedule.