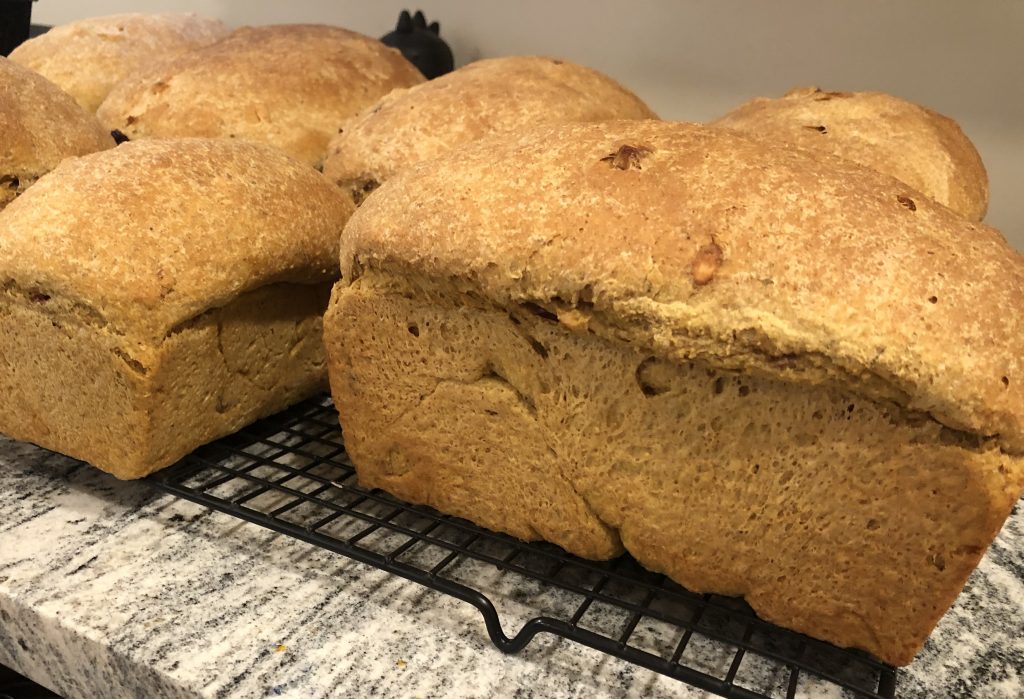 This bread is one I came across in an old cookbook years ago. Over the years, I've adjusted it to my preferences. The bread seems a little unique because it combines pumpkin into a yeast bread, but the combination works really well. It's one of my favorite breads to make in the fall. You can think of it like a fancy sort of cinnamon raisin bread.
I usually make a big batch of this bread in my Bosch Universal and I share extra loaves with my favorite neighbors. But in the interest of normality, I've broken the recipe down here so it will make one large loaf or two smaller loaves. The final batch size may be dependent on your hydration of your sourdough starter and on the moisture content of your pumpkin puree. To adjust for this, you may need to flexible with the amount of flour added at the end – which is just a good practice with bread making anyway. If you end up with extra dough – and I hope you do – shape it into a tiny loaf of bread or make a couple quick cinnamon rolls with it.
And a quick note on the sourdough. IF you don't have sourdough starter on hand, then you can skip that ingredient and move on with baking this bread. BUT, you should consider getting yourself going with sourdough. It may be Covid trendy, but it is still a wonderfully pleasant kitchen activity. If you need more info on sourdough, reach out to me and I'll see what I can do to get you started.
This bread is excellent toasted with butter, cream cheese, or apple or pumpkin butter.
I hope you enjoy it!
Pumpkin Sourdough Yeast Bread
Author:
Prep time:
Cook time:
Total time:
This a great bread for those fall days. It is wonderful toasted with butter or cream cheese.
Ingredients
1/2 c sourdough starter
1/2 c pumpkin puree
1 cup of hot water (110 degrees, or baby bath temperature)
1/4 c oil (I like sunflower or something with a light flavor)
1/4 c brown sugar
1/2 t cloves, ground
1 t ginger
2 t cinnamon
1 T dough enhancer (optional, if you have it – otherwise substitute apple cider vinegar)
1 cup white flour (King Arthur all purpose in the red bag is great)
4-5 cups of freshly ground hard white wheat flour (if you don't have freshly ground, substitute white flour)
1 T SAF or other instant yeast
1 t salt
1/2 cup dried cranberries
1/3 cup pepitas
Instructions
Combine sourdough starter, pumpkin puree, hot water, oil, sugar, clovers, ginger, cinnamon, dough enhancer, white flour, and 1/2 of the whole wheat flour into the bowl of your mixer. Add the yeast on top of the flour. Stir until it is just combined. It should be the thickness of pancake batter.
Allow the batter to rest 10-30 minutes. This lets the gluten in the flour relax and creates a better dough structure.
Add another cup of flour and the salt to the dough and mixer.
With the mixer running, add remaining flour 1/2 a cup at a time until the dough has formed. If you are using a Bosch mixer, this will be when the dough cleans the sides of the bowl. If you are using an Ankersrum mixer, the dough will quickly form around the kneading arm when you move the arm to the center of the mixer. It's okay if the dough is a little soft at this stage.
Add the cranberries and pepitas to the dough.
Knead for 6-10 minutes until the dough has formed a good gluten structure. Knead at the number 2 on a Bosch and at about 2:00 or 3:00 with an Ank. The dough should be soft and smooth. If you are using a machine other than a Bosch or Ank, you will probably need to knead several extra minutes to obtain a good dough structure, possibly up to 20 minutes. At this point, my dough is usually very soft to the point that it makes me nervous, but it always seems to turn out fine.
Turn the dough into an oiled bowl. Cover and let rise in a draft free, warm location until almost double – about 30 minutes.
Turn the dough out onto an oiled board, shape into loaves and place in oiled pans. You can also free form loaves or use this dough for cinnamon rolls. I like to use about 1 pound 8 ounce of dough per 4.5 x 8 inch loaf.
Let rise until the dough is about an inch over the edge of your pans. Meanwhile preheat oven to 350 degrees.
Bake for 30-35 minutes until the loaves are golden and brown.