After many years of making our yogurt, I feel like I'm finally ready to put down all my tips into writing. To start with, we are going to focus on dairy based yogurt. If you want to make non-dairy yogurt, you'll need to go elsewhere.
Once you've got a good batch of yogurt, you'll want to top it with granola or müesli. I also love using it in smoothies and overnight oats. You can also add yogurt into your favorite waffle or pancake recipe. And if you get a nice tangy batch of yogurt, it makes a great substitute for sour cream.
Why make your own yogurt?
As with many things, I started making our yogurt because it saves money. Basically, your only cost is the milk. It does take some time to make yogurt, but it is really mostly a matter of timing and planning. Most of the process is hands off and waiting.
I also love that I know the ingredients in my yogurt. My yogurt has lots of good bacteria and probiotics in it, which is not always the case with store yogurt – but more about that later.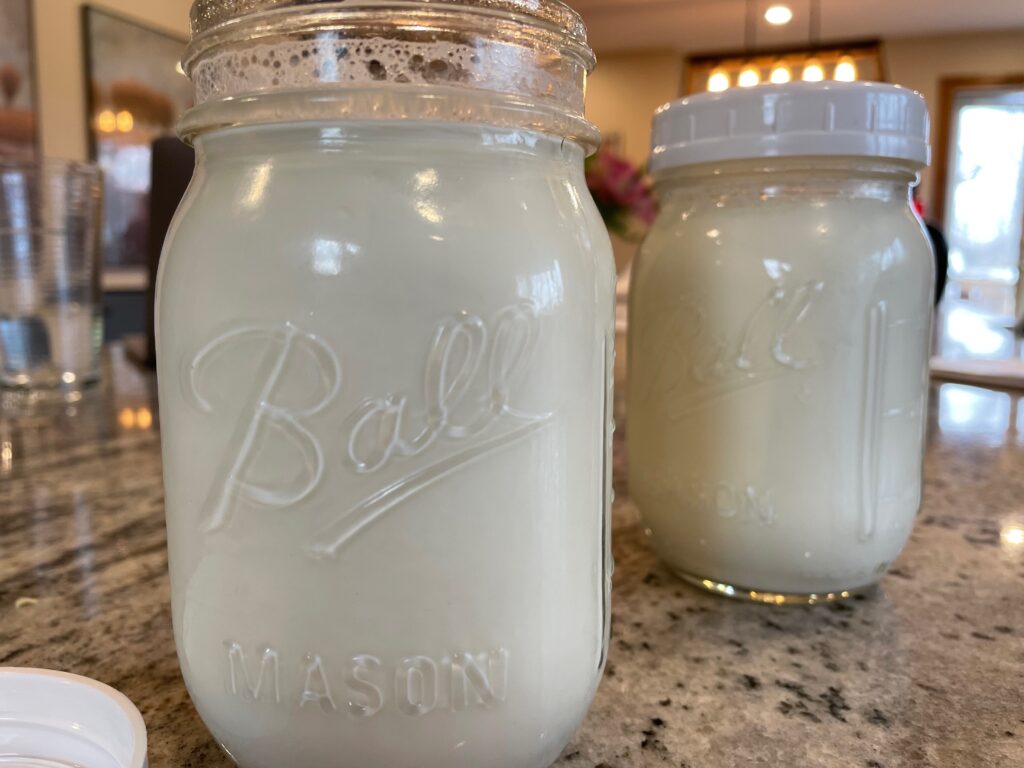 The basic process of yogurt making
My basic process of making yogurt involves the following steps:
Start with milk and a bit of yogurt as starter.
Slowly heat the milk up to 180 F and maintain for 2 minutes.
Cool the milk back down to 110 F.
Add the yogurt starter into the warm milk and allow the whole pot to rest in a warm spot for 12-24 hours.
Chill the yogurt for at least 4 hours before eating.
That's it in a nutshell.
You may find recipes that don't call for the heating process, but I find that my final yogurt is thicker and creamier with the heating method. Heating the milk is a method of pasteurizing the milk to kill any bacteria that may compete with the yogurt bacteria. It will allow the whey proteins to denature and coagulate to enhance the viscosity and texture of the final yogurt. Some recipes will also tell you to maintain the 180 F temp for 10-20 minutes for a thicker yogurt. I don't personally find that extra heating time is necessary.
The 110 F temperature is important because it's the ideal temp for the yogurt fermentation to take place. If you accidentally cool down the milk lower than 110 F, just allow it to ferment a bit longer to account for the time it takes for the mixture to come back up to 110 F once it's in your yogurt maker (or other warm spot)
How long you ferment the yogurt is your decision. Some people do as short as 8 hours, but I find yogurt at a longer fermentation is a bit thicker and has a nicer tanginess to it.
Do I need a yogurt maker?
In short – no. A yogurt maker or a yogurt setting on your electric pressure cooker is just a way to control the temperature to set at 110 F. I had a $20 yogurt maker that worked for me for over 10 years. But if you are just getting into this, or if you don't want to go out and buy a new one-use appliance (I don't blame you), try the following first:
Check your electric pressure cooker and see if it has a yogurt setting. Most do now and they are wonderful. Use this if you have it.
No yogurt setting or maker? Then wrap your warm pot of milk and yogurt starter in a towel and set it into a larger cooler or the oven with a light on for the fermentation period. You can use an instant read thermometer to track the air temperature in the oven or cooler, if you really want to be accurate, but this works without that extra work. Alternatively, you can set the towel wrapped pot in a warm spot – such as on the top of your refrigerator – and go from there. You can even set the pot on a heating pad to help it keep warm. Once you've picked your spot, check the yogurt at about 8-12 hours to make sure it is thickened and doing its thing.
Do I need an instant read thermometer?
No, you don't. Just like the yogurt setting on your instant pot, a good thermometer can make the difference between good and great yogurt, but it is not entirely necessary. I currently use an instant read thermometer with a clip that stays in my milk while it heats and cools. It has the added feature of an alarm that goes off at 180 F so I don't scorch my milk.
Before I got my current thermometer, I used a candy thermometer for many years. So anything you have handy should work. No thermometer at all? Follow the temperature descriptions in the recipe and you should end up fine.
What type of milk is best?
Use the best milk you can afford. We are working with a two ingredient recipe here, so if you have access to high quality milk, this is a good place to use it.
Whole milk makes the thickest yogurt and that is what I generally use for my yogurt. If you are using a lower fat yogurt, you can thicken the yogurt by adding 1/4 cup of dry powdered milk when you stir in the yogurt starter.
What if my yogurt is too thin?
If you end up with thinner yogurt than you'd like, you can drain the whey from the yogurt and make a greek yogurt. You can drain as much or as little whey off the yogurt as you like to adjust the thickness. Just line a colander with a couple coffee filters and set over a bowl. Add the yogurt to the calendar and give it a couple hours to drain until it is as thick as you like.
What about yogurt starter?
When you are starting with your own homemade yogurt, I recommend using a plain, unflavored whole milk yogurt from your favorite grocery store as a starter. You will use about 2-4 tablespoons of that yogurt to make two quarts of homemade yogurt.
Don't eat the rest of that container of yogurt! You just made your own homemade yogurt, right? So, save that extra yogurt to make future batches of homemade yogurt. Just fill up an ice cube tray with that yogurt and freeze. When the cubes are frozen, pop them into a ziplock bag and keep frozen until you want to make yogurt again. Use one or two cubes per new batch – pop them out into a bowl when you start to heat the milk up and they will be thawed by the time the milk cools down to 110 F.
You can also save some of your homemade yogurt in the freezer to use to make future batches. But… (now this gets interesting), this won't work forever. Store yogurt has active cultures in it, usually about 4-5 cultures. Those are the cultures that create good flavor or make the yogurt easy to culture for mass production. But over time, those cultures get contaminated and weaken and won't produce as tasty of a yogurt. After somewhere between 5-10 batches of yogurt where you are using the yogurt from the last batch to make the next batch, your yogurt will start tasting slightly off. At that point, the yogurt culture has become "weak" and you need to restart with a new container of yogurt from the store.
If you really get into yogurt making – or you really just love good yogurt, then you'll want to look up heritage yogurt cultures. These are the European and Middle Eastern yogurts that people talk about when they travel. I use a Bulgarian yogurt culture that is just amazing in flavor. Heritage yogurts have a wider range of flavors and textures and can be a lot of fun to experiment with.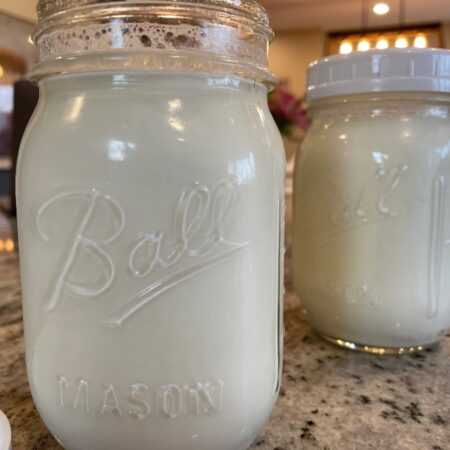 Homemade Yogurt – With or Without the Instant Pot
Here is my tried and true method of making homemade yogurt. I love this recipe because it saves money and contains only milk and yogurt cultures.
Equipment
1 yogurt maker or pressure cooker with a yogurt setting if you don't have a yogurt maker, see the notes below

1 medium to large saucepan

1 instant read thermometer a thermometer makes this easier, but if you don't have one, follow the temperature notes in the recipe.

1 whisk

4 2 cup mason jars optional
Ingredients
8

cups

whole dairy milk

You can use lower fat milk, but whole milk gives the creamiest results. See the recipe notes for more tips on using lower fat milks.

3-4

tbsp

plain, whole milk yogurt 
Instructions
In a large saucepan, heat milk slowly over low heat to 180 F, or until it is steaming and at a bare simmer with bubbles around the edges, but not boiling. Stir the milk occasionally as it heats. Remove milk from heat and cool milk down to 110 F or lower. It should be warm, but not hot. If you stick your finger in the milk for 10 seconds, it should feel pleasantly warm, but not hot. 

Transfer 1/2 cup of the warm milk into a small bowl and whisk in yogurt until it is well combined. Add this yogurt milk mixture back to the rest of the milk and whisk to make sure it is well combined. 

Place milk and yogurt mixture into a yogurt maker (see notes below) and set the time for 8-24 hours, until it is thick and tangy.

Transfer the pot to the refrigerator and chill for at least another 4 hours. It will continue to thicken as it chills.
Notes
You can substitute low-fat milk – the higher milk-fat, the creamier and thicker the final yogurt.

 

If you use skim milk, you can whisk in 1/2 cup of dry milk powder or 1 teaspoon of gelatin in step 3 to make a thicker yogurt.
You should heat the milk slowly – don't rush step 1.

 

You can cool the milk quickly in step 2, if you are in a hurry. Ways to do this include: use an ice bath, transfer the milk into into a cool bowl, stir the milk frequently.
The longer the yogurt sits, the tangier it will become.

 

If you'd like to make Greek yogurt, set a calendar or sieve over a bowl and line the colander with cheesecloth or coffee filters. Take your finished yogurt (either chilled or not) and pour it into the colander. Allow to drain in the fridge for 4-6 hours until it is as thick as you like. If it gets too thick, you can whisk some of the whey back into the yogurt. Transfer the yogurt to containers. The whey can be used for smoothies, soups, lemonade, or bread baking.

 

Your final yogurt will taste like the yogurt that you used to start this batch with, so be sure to use a yogurt you like.

 

You can save a few tablespoons to your finished yogurt for future yogurt making. I do this by freezing some of the chilled yogurt in ice cube trays and storing in a ziplock bag in the freezer.

 

If you find you enjoy yogurt making, you can also find heirloom starter cultures on line or at some health food stores. These starter cultures typically have a wider range of cultures in them vs. the 3-4 that you find in store-bought yogurt, so they can have a better flavor and may be considered healthier as a pro-biotic food. Follow the directions on the package to active the powdered cultures and once you have a good batch of yogurt going, you can freeze small amounts for future batches of yogurt – it's a continuous loop of yogurt!