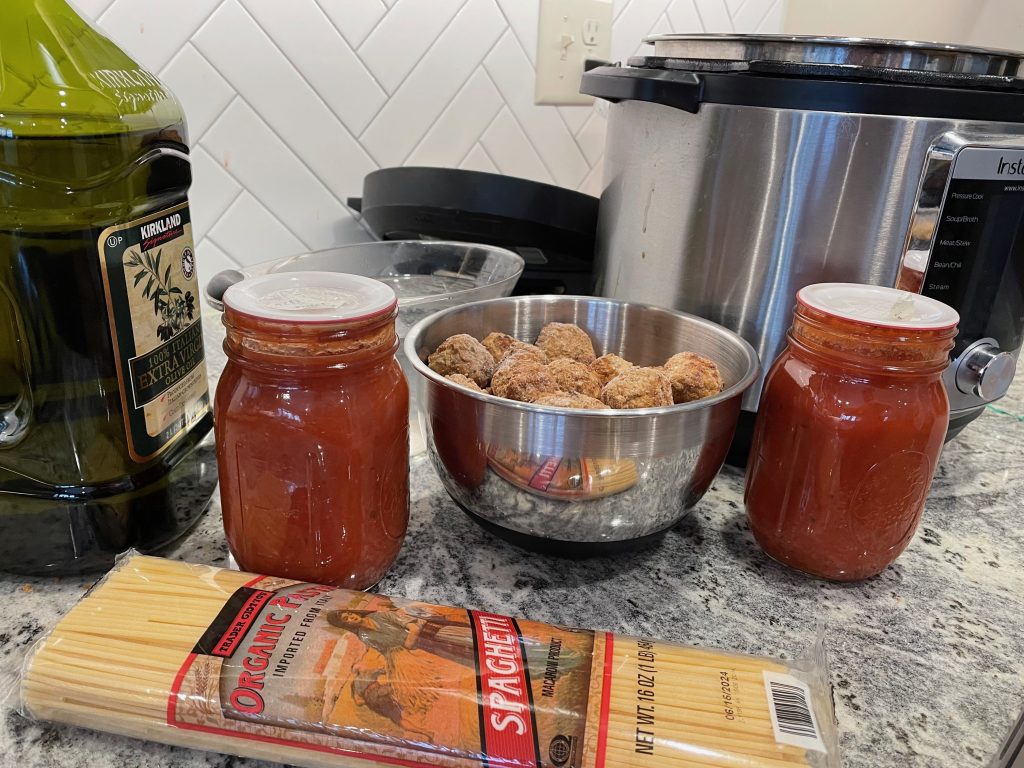 Let me introduce you to one of my absolute favorite go-to weeknight meals. I always have the ingredients for spaghetti in the pantry, but learning how to make spaghetti and meatballs in the pressure changer is so much simpler than the stovetop. I've had a recipe for Pasta and Meat Sauce on my site for a while, but I love incorporating the pasta into the cooking. This recipe is one that I pull out on nights where I really want to order carry-out, but I know it would be quicker to cook at home. If you're looking for other ideas for quick week-night meals, we also love my recipes for Cheesy Chili Mac and Instant Pot Sloppy Joes.
A couple thoughts on this recipe. I save lots of time and energy by using frozen Italian meatballs from Costco. Find your favorite brand and just go with it. I usually dump in about a pound and a half of meatballs to feed the six of us. That's thirty-six meatballs – yes, I count them – meatball fights are a real thing at our table. Feel free to adjust the meatball amount to what you need – the cooking time remains the same.
This really does seem to serve the six of us with a few leftovers. We typically add a salad and bread. If you want to use a whole package of spaghetti, you should add an extra cup of water and your sauce will be a bit thinner.
Instant Pot Spagetti & Meatballs
Ingredients
1-2 lb frozen meatballs, homemade or frozen from a bag
12 oz uncooked spaghetti noodles
1 T olive oil
32 oz pasta sauce
3 cups water
parmesan cheese for serving
Directions
Toss the meatballs into the bottom of your instant pot.
Break the spaghetti noodles in half and scatter over top of the meatballs.
Drizzle the olive oil on top of the spaghetti. Pour in the pasta sauce and water on top of the spaghetti. Add a little extra water if you need to make sure the spaghetti is covered with liquid. Don't stir!
Place the lid on the pressure cooker and set the time to 8 minutes. When the timer is up, release the pressure using a quick release method. Open the lid, stir, and serve.