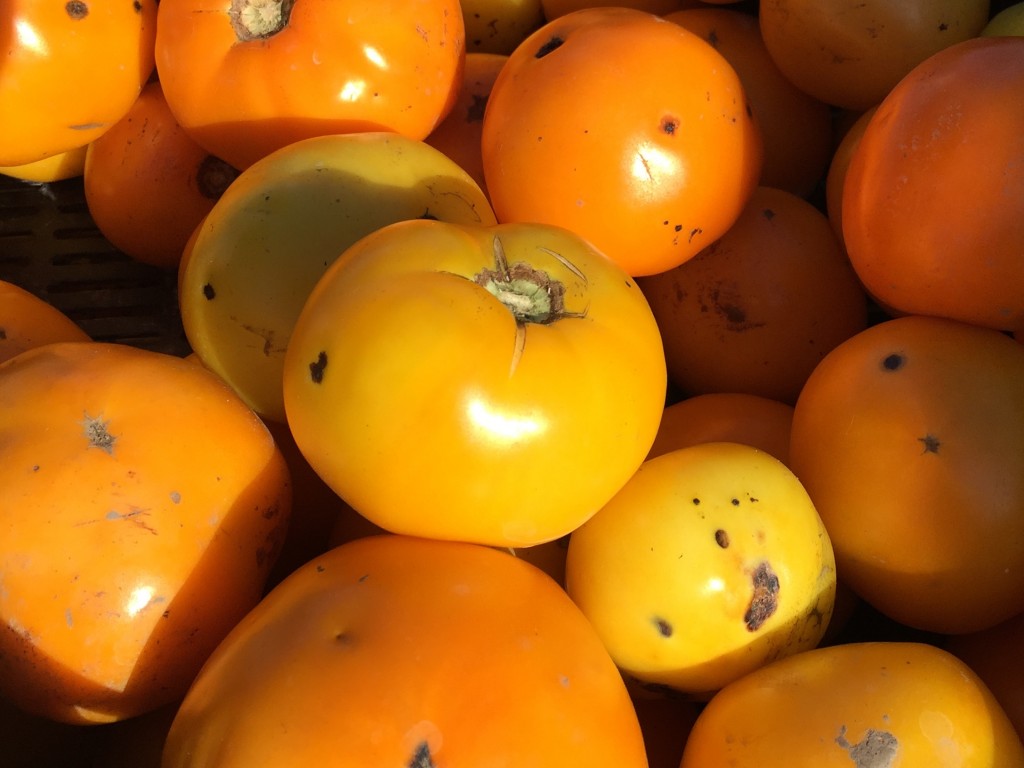 I find that people often give me a second look when I talk about tomato jam. Not many people have heard of it, but it is definitely a jam worth the effort. I think of it as a grown up jam – I don't share it with the kids – it's too good for them. They won't fully appreciate it, so I save the strawberry and raspberries for them. I've had more than a few people ask for the recipe, so here you go!
When picking your tomatoes, I recommend you find a nice flavorful heirloom variety from the farmer's market or your own garden. Don't even bother with the watery tasteless store bought imitations from the grocery store. My absolute favorite tomatoes to use are yellow and orange varieties. I find them fun to work with and they typically have a less acidic, more mellow, sweeter flavor.
The time it takes for this recipe will vary greatly depending on several factors – your tomatoes' water content, the size of your simmering pot, whether it's a full moon. Get the idea? Allow lots of time for this one. I've let some batches simmer for four or more hours until they got nice and thick like I wanted. Whatever you do, don't try to double this recipe. You will be simmering forever. Trust me on this.
As far as ideas for using this jam – once you taste it, you'll come up with endless ideas on your own. But here are some starters. Try it on cream cheese or goat cheese with crackers. It is wonderful with scrambled eggs – like a fancy katsup. It also makes a great sandwich spread with ham or turkey.
Okay! Now get simmering!
Spicy Yellow Tomato Jam
Author:
Prep time:
Cook time:
Total time:
Ingredients
5 lbs tomatoes
3 cups sugar or 2 1/2 cups of honey
1/2 cup lime juice
1 T freshly grated ginger
1 T cinnamon
1/2 t ground cloves
1 T salt
1-2 T red pepper flakes – adjust to your taste
Instructions
Core and finely chop the tomatoes. Save yourself some time and use the food processor. I don't skin them or deseed them – if you chop the tomatoes fine enough you won't notice the skins, plus they help thicken the jam.
Add all ingredients to a large stainless steel pot and bring to a simmer over medium heat. Reduce heat to low and keep a simmer. Simmer for 2-4 hours until the jam is thick. The jam should separate when you stir the bottom of the pan with a wooden spoon.
Fill hot pint or half pint jars with jam, allowing 1/4 inch head space.
Wipe jar rims and place hot lids on jars.
Process in a water bath canner with water at least one inch over tops of jars for 20 minutes.
Remove jars from canner and allow to cool completely (at least 12 hours) before checking seals.
Makes 2-4 pints (4-8 half pints) – depending on tomato type.