These are a sweet little dessert that are made even better by the air fryer. Sure, you can make these in the oven, but the air fryer is quicker to heat and bake, plus it gives the s'more hand pies some extra special crispiness.
Feel free to use this template as a starter into all sorts of hand pies that can be air fried. Apple pie filling, cherry pie filling, or even your favorite jam would all make great fillings for these little hand pies.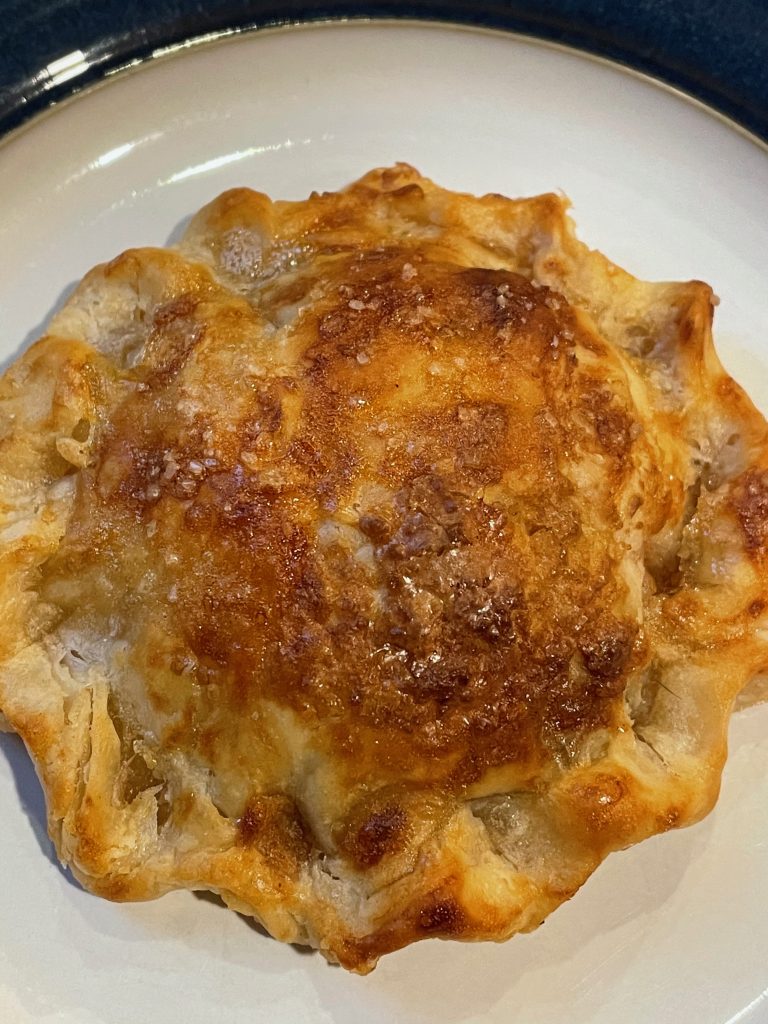 S'mores Hand Pies
Ingredients
pie dough – either homemade pie dough or store bought.
mini marshmallows or larger marshmallows chopped into small pieces, about 2 T per pie
chocolate chips, about 1 T per pie
graham crackers, about 1/2 cracker per pie
Topping
Sugar (course sugar is nice, but not necessary)
Directions
Preheat your air fryer to 400 F.
Put the graham cracker into a plastic baggie, seal the baggie, and crush with your rolling pin or your hands. You want a nice fine crumb like bread crumbs.
Take one dough ball out of the fridge and unwrap it. Lay a piece of parchment paper down on your work surface and lightly flour the parchment paper and rolling pin. Place the dough in the center of the parchment paper. Sprinkle a little flour on top of the dough and place a second piece of parchment on top of the dough. Roll the dough out by going from the center of the circle to the outside. Move the dough and unstick from the parchment often, adding flour if it gets sticky. Roll the dough into about a 6-inch circle.
Have a small bowl of water, fork and baking sheet nearby. Dip your fingers in the water and moisten the dough around the edge of your circle. Take your topping and sprinkle them over one half of the dough circle. Fold the top of the circle in half, over the toppings. Press on the edges with a fork and move onto the baking tray.
Prepare an egg wash by cracking the egg in a small bowl and break it up with a fork.
Lightly brush or wipe the egg wash onto the top of the hand pie and lightly sprinkle with sugar. Use the fork to poke the top of the pie three times. Place the pies on the prepared trays. Pies can be kept in the fridge while working on the remaining pies. (The pies also freeze well at this point – freeze them on the tray until they are solid and then move into a freezer bag. They will keep about three months like this and can go straight into the oven from the freezer.)
Repeat with until all the pies are made.
Bake in preheated air fryer for 8-12 minutes, check around 6 minutes for browning.