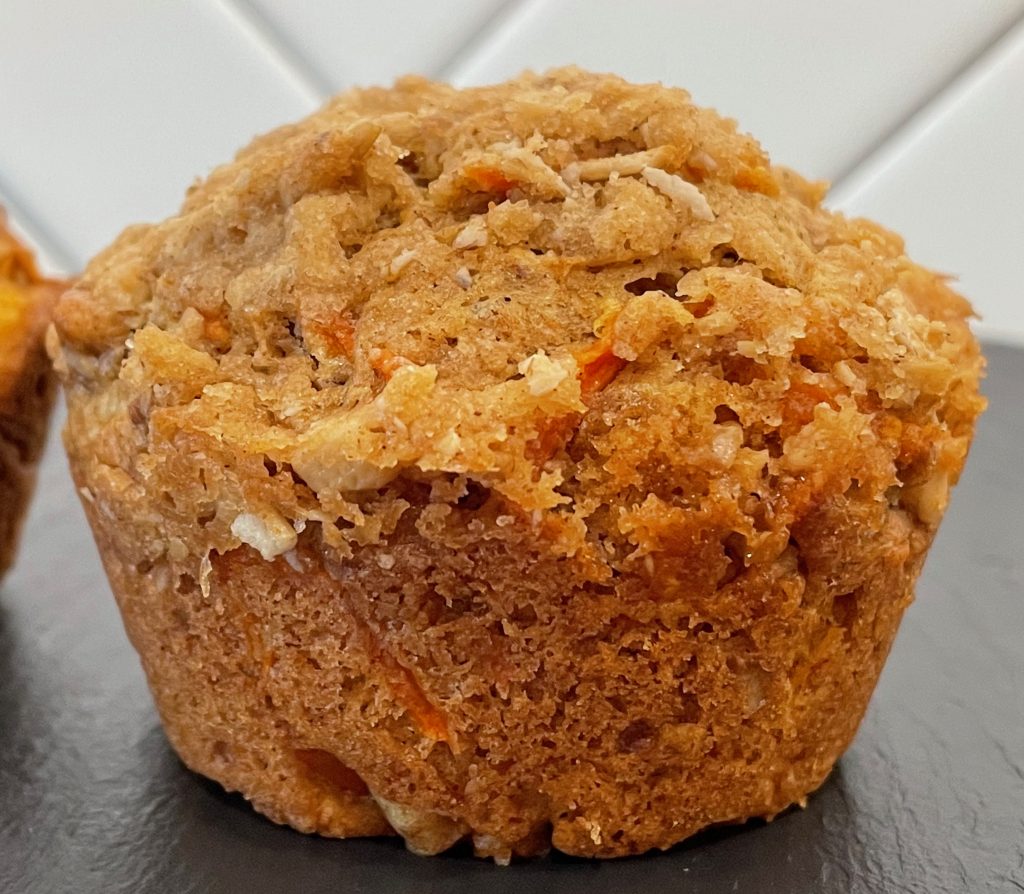 Okay! I've been eyeing making these carrot muffins for a while now and I have to admit that the thought of shredding carrots has kept me away from this recipe. But the ten pound bag of Costco carrots kept my mind coming back to this recipe. This morning, I finally got out the shredder. Honestly, sometimes (well, probably most of the time) I avoid certain recipes or steps because of the thought of doing extra dishes. Dishes are done now and the muffins are out of the oven. And these carrot muffins were worth the extra dishes.
These muffins have a great balance of flavor and spice. However, based on my kid's responses to them, they may have more of an appeal to an adult palate. Next time, I may try to back off on some of the spices to see if that helps the boys. Maybe.
I made this recipe with discarded sourdough starter. You can't really taste that the starter is in the muffins – it is mainly there as the liquid. If you don't have sourdough starter, you can substitute with buttermilk or greek yogurt. Make the substitute on a 1:1 basis.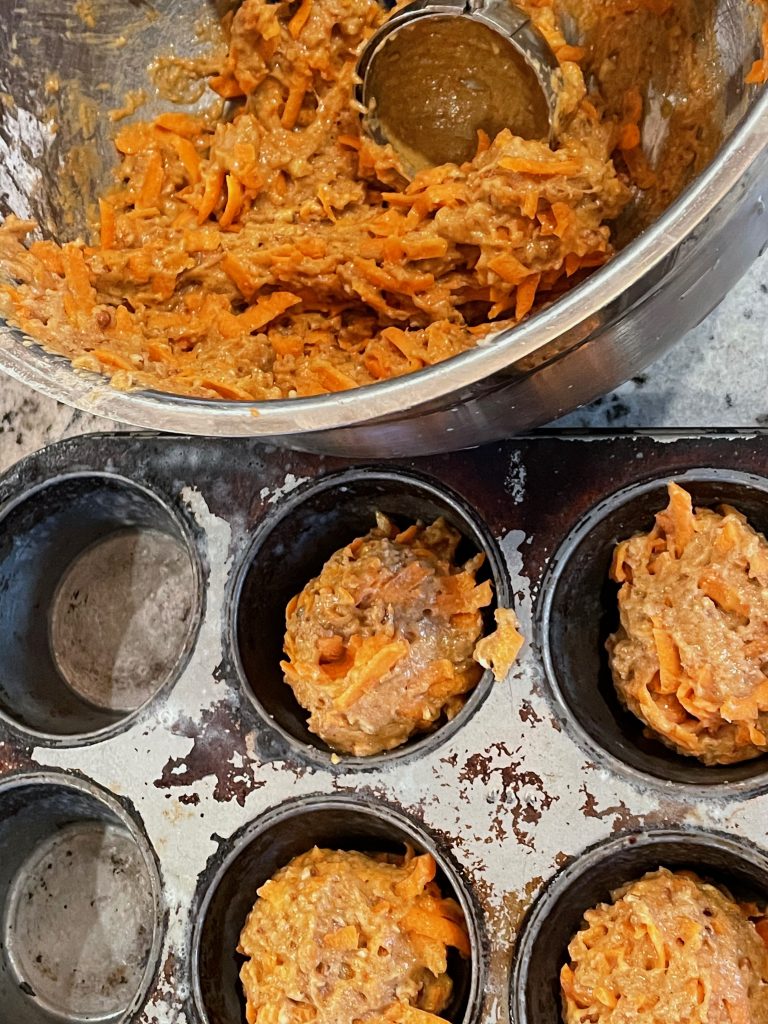 While I have your attention, let's spend a quick minute talking about flour. You can absolutely make these muffins using regular all-purpose flour; however, upgrading to a good whole grain flour will really enhance the flavor. The key here is good whole grain flour. I mill my own flour, which is at the far end of the flour spectrum as far as freshness, quality and taste. But you can also find good whole grain flours from local mills, farmers markets or even on-line. If you are at the grocery store, brands like Bob's Red Mill or King Arthur Flour are easy to find and provide a quality product. If you are near to me, feel free to reach out and ask me for a sample of flour. I think you'll be surprised at what a difference fresh whole grain flours can make in your baking.
The crumble topping on the muffin is completely optional. I honestly put it on because I was hoping it would hide the carrot from my discerning teenager – it didn't work. The topping did add a little extra sweetness to the muffin. Per my usual approach, I kept the sugar pretty low in the muffins. In my world, if I want a cupcake, then I'm going to eat a cupcake, not a cupcake disguised as a muffin. But… if you like your muffins a little sweeter, you can either add a bit more sugar to the recipe or you can include the topping. Own it and feel free to make this recipe work for you.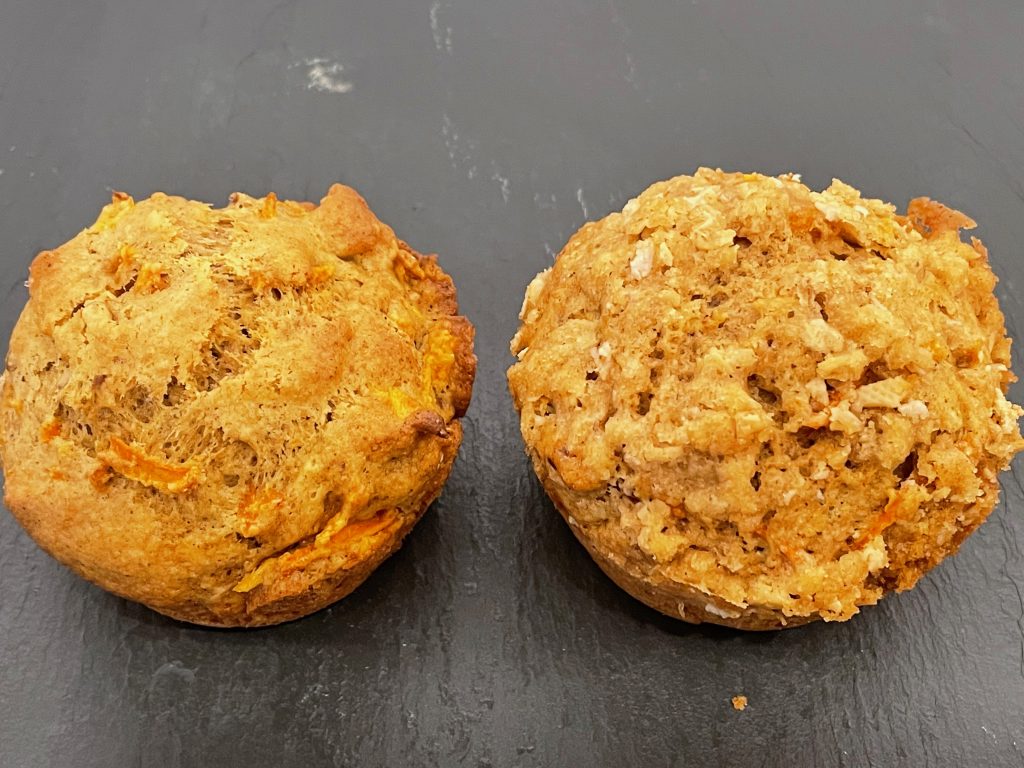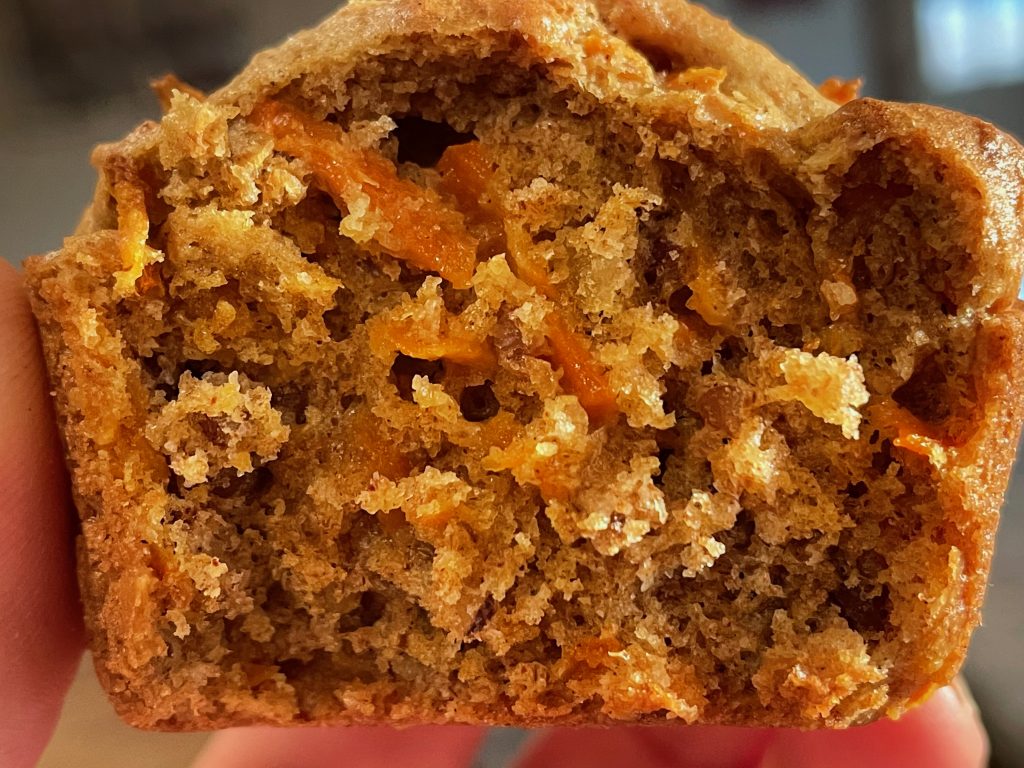 (Sourdough) Carrot Muffins
Dry Ingredients
2 cups (240 g) whole wheat or AP flour (freshly ground soft white or spelt works well here)
1 1/2 t baking powder
1/2 t baking soda
1/2 t salt
1 1/2 t cinnamon
1/2 t nutmeg
1/4 t ginger
1/4 t allspice
Wet Ingredients
2 large eggs
1/3 cup sunflower or olive oil
3/4 cup brown sugar
1 cup sourdough starter (can substitute with buttermilk or Greek yogurt)
Fold-In Ingredients
1 1/2 cups (160 g) grated carrot (about 3-4 carrots)
1/2 cup of finely chopped walnuts (optional)
1/2 cup of raisins (optional)
Crumble (optional)
1/4 cup brown sugar
1 1/2 T whole wheat or all-purpose flour
1/3 cup rolled oats
1/4 t cinnamon
2 T butter, room temperature
Directions
Preheat oven to 425 F with the rack in the upper third of the oven. Spray or line 12-15 muffin tins.
Prepare your shredded carrots. Peel the carrots and shred using a box grater or your food processor. If you have a little extra carrot (up to 200 grams or 2 cups), just use them in the recipe.
Prepare the crumble topping, if you are using it. Combine the crumble ingredients in a small bowl. Using your fingers, massage the butter into the dry ingredients until it is nice and crumbly. Set the topping aside.
Combine the dry ingredients in a large bowl. Whisk.
Combine the wet ingredients in a separate bowl and stir until they are mixed evenly.
Add the wet ingredients to the dry ingredients and fold in until the flour is almost entirely dissolved. Don't overmix, just gently stir. Add the carrots and nuts or raisins, if you are using. Gently fold the mixture until the carrots are distributed throughout. If you made the batter with sourdough starter, the batter will seem pretty dry.
Scoop the batter into the prepared muffin tin and fill tins about 3/4 full. Top with a tablespoon of the crumble topping, if using.
Bake at 425 for 5 minutes. Turn down the heat on the oven to 350 F (don't open the door) and cook for 15 minutes longer until the muffins are lightly browned and cooked throughout.
Turn the muffins out onto a cooling rack and enjoy.