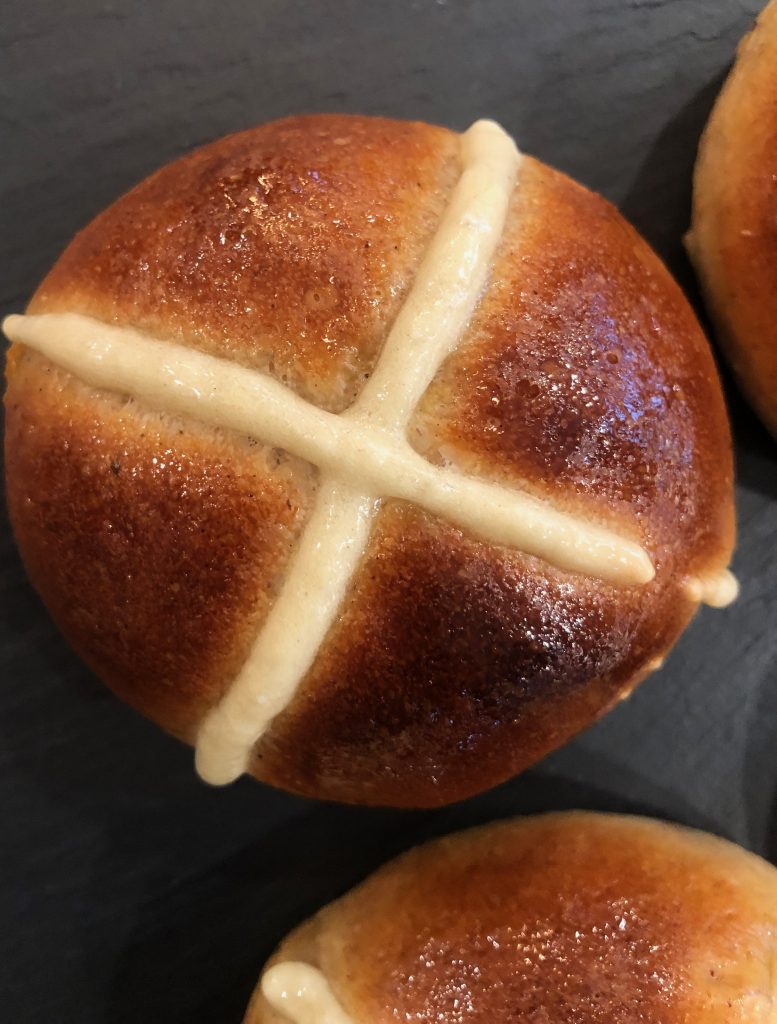 I'm putting this out just in time for Easter baking. But once you know how to make these lovey buns, you will be able to make them any time of the year. Perhaps, that is the best part of baking!
These buns are lightly sweetened, but not to the point where the sweetness overpowers the fruit or the spice. Feel free to play a bit with the fruit you use in the buns. Dried currants and candied citrus peel are traditional, but I enjoy chopped dried apricots or other fruits like dried cherries. Even raisins would be lovely.
And a quick note on the spices, this recipe calls for allspice and nutmeg. If you don't have allspice in your cupboard, you can substitute with a combination of nutmeg, cardamom, cloves or even dried ginger, or just leave it out altogether. However, be careful adding cinnamon to the mix, as it can hinder the yeast in it's rising power.
Just a note on crosses, the cross is an ancient Celtic representation of the four seasons. I think it's a nice reminder, as we move from winter into spring.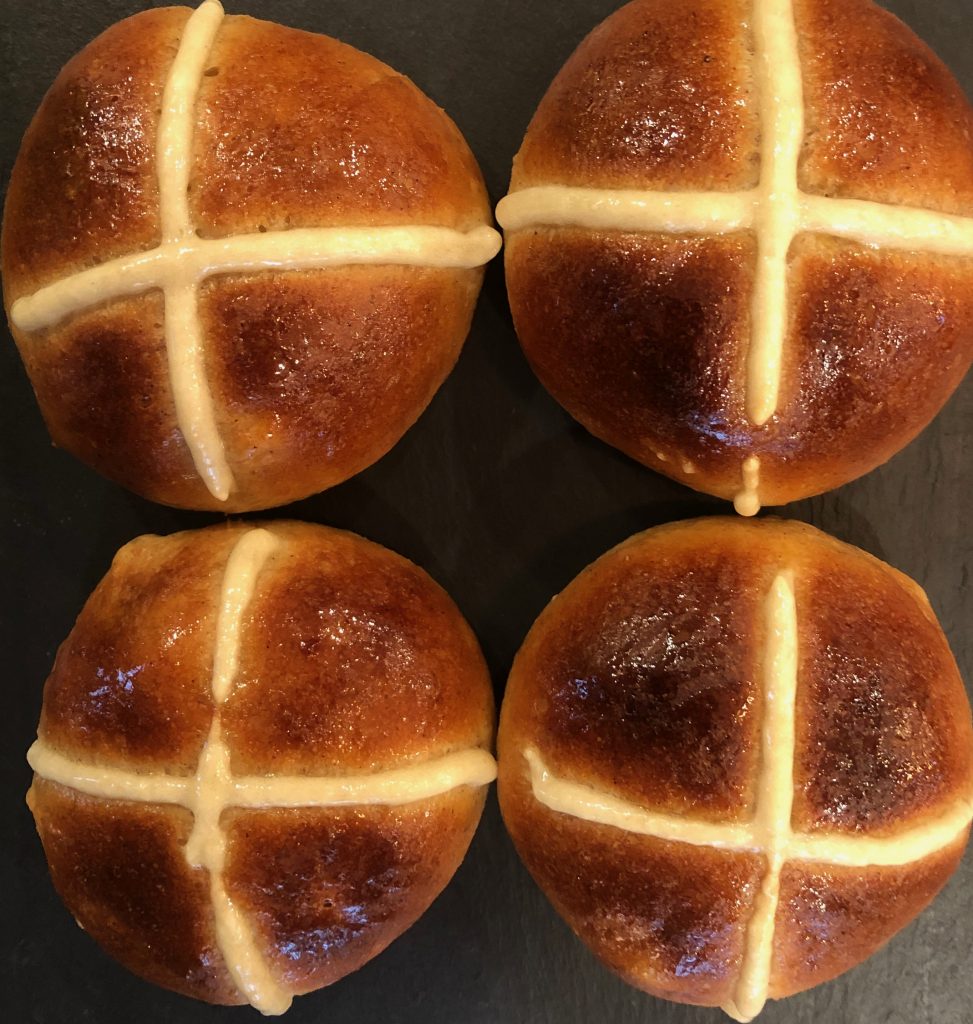 Hot Cross Buns
Ingredients
1/2 cup (60 grams) whole grain spelt flour (can substitute with white or stone ground whole wheat flour)
1 3/4 cup (210 grams) bread or all-purpose flour
1 t salt
3 T sugar
1/2 t allspice
1/2 t nutmeg
2 T butter
1/2 cup dried fruit, currents, cherries, or apricots (chopped)
1/2 t dried lemon or orange peel
2 t instant or active dry yeast
2/3 cup (151 grams) whole milk
Ingredients – Frosting for Cross
1/2 cup powdered sugar
1/2 t vanilla extract
1-2 T whole milk
Directions
Combine the whole milk, yeast, and sugar in a large bowl or in the bowl of your mixer. Add butter, spices, and spelt flour and stir with a wooden spoon or mixer on low speed. Add salt and remaining flour about 1/2 cup at a time until the dough comes together in a shaggy mass. The dough should be soft and a little sticky.
Knead dough by hand for about 10 minutes or by machine for 6-8 minutes. Add the dried fruit and lemon or orange peel during the last two minutes of kneading. The final dough should be smooth.
Place dough in a lightly oiled bowl, and oil the top of the dough. Cover the bowl and allow to proof in a warm (80 F), draft free spot until the dough has almost doubled, about an hour.
Divide the dough into 10-12 pieces, about 65 grams in weight. Shape into balls and place on an oiled baking sheet. Cover with a lightly oiled piece of plastic wrap or a damp towel to rise again for about an hour until they are almost doubled in size. You should be able to lightly press on the tops and the indentation should bounce back.
While the dough is rising the second time, prepare the egg wash. Scramble the egg in a small bowl.
Preheat the oven to 375 F.
Once the buns have finished proofing, brush with the egg wash and bake for 15 minutes. Rotate the pan about half way through baking. Check for doneness around 12 minutes of baking.
Remove from oven and place on a cooling rack.
Prepare the glaze by whisking the milk and vanilla into the powdered sugar a little bit at a time until you have a consistency that will allow it to be drizzled onto the top of the buns. Once the buns have cooled completely, drizzle the glaze onto the tops in the shape of a cross on each bun.
The buns are best eaten fresh, but day-old buns can be reheated successfully, covered in aluminum foil, and heated for about 6 minutes at 350F.