This is a recipe of sorts for my favorite salad dressing – one I have lovingly nicknamed Green Herby Dressing. In case you are wondering, in my head, I pronounce Herby with a hard H. It just makes me want to sing and dance around the kitchen…
Back to salad dressings, if you follow a couple basic rules of thumb, you can be creative with most of the recipe. That being said, I've written this recipe for Green Herby Dressing as I currently make it.
I use this recipe as my potato salad dressing and as a dressing for my wheat berry salad. I toss it on those salads while they are warm so the vinaigrette can infuse a bit with the salad. Green Herby would also be good on a kale salad.
All of the herbs in this dressing would make Green Herby a little strong for a lighter salad such as one based with spring greens. If you want a lighter vinaigrette for spring greens, just back off on the fresh herbs or eliminate them all together.
Vinaigrette Basics
So… lets start with the basics of making homemade salad dressings. We are going to be focusing on vinaigrettes with this post. I'm going to save creamy dressings like ranch and blue cheese for another day.
The trick here is to remember to keep it simple. A few ingredients and a quick spin with the immersion blender. Don't get bogged down with the fact that you are MAKING YOUR OWN DRESSING! It is actually really easy to do and lots healthier that the store bought stuff. I also usually make just a small batch. Usually enough for the salad I'm making or maybe enough for a week or maybe two. It won't last in the fridge much longer than that, anyway.
The base for vinaigrettes is usually olive oil. After that, you add a touch of vinegar and seasonings to test. I find it helpful to remember that the rule of thumb for the ratio of oil to vinegar is 3:1. So that means 3 tablespoons of olive oil and 1 tablespoon of vinegar. Don't get these swapped around or you'll need to start over – ask me sometime how I know that! Anyway, three tablespoons of oil and one tablespoon of vinegar.
To mix the ingredients together, I use my handy dandy immersion blender and the tall beaker that came with it. The immersion blender does most of the chopping and emulsifying for me. I also use the beaker to measure the oil and vinegar as I pour them in. If you don't have an immersion blender, you can pull this off with a regular blender or a little whisking and chopping. Note that for this particular recipe of Green Herby Dressing, there is a lot of chopping of herbs involved.
Vinaigrette Ingredients:
Oil for the vinaigrette base. Usually this will be olive oil.
Vinegar of choice, this will add a little acid and kick to the vinaigrette.
Dijon mustard adds a little creaminess and flavor, but it is optional.
Sweetener such as honey or maple syrup. This is also optional, but you can use it to balance out the vinegar if you added too much.
Garlic gives a good flavor, but it can be substituted with a shallot or left out completely.
Salt and pepper.
Other additional ingredients include fresh or dried herbs.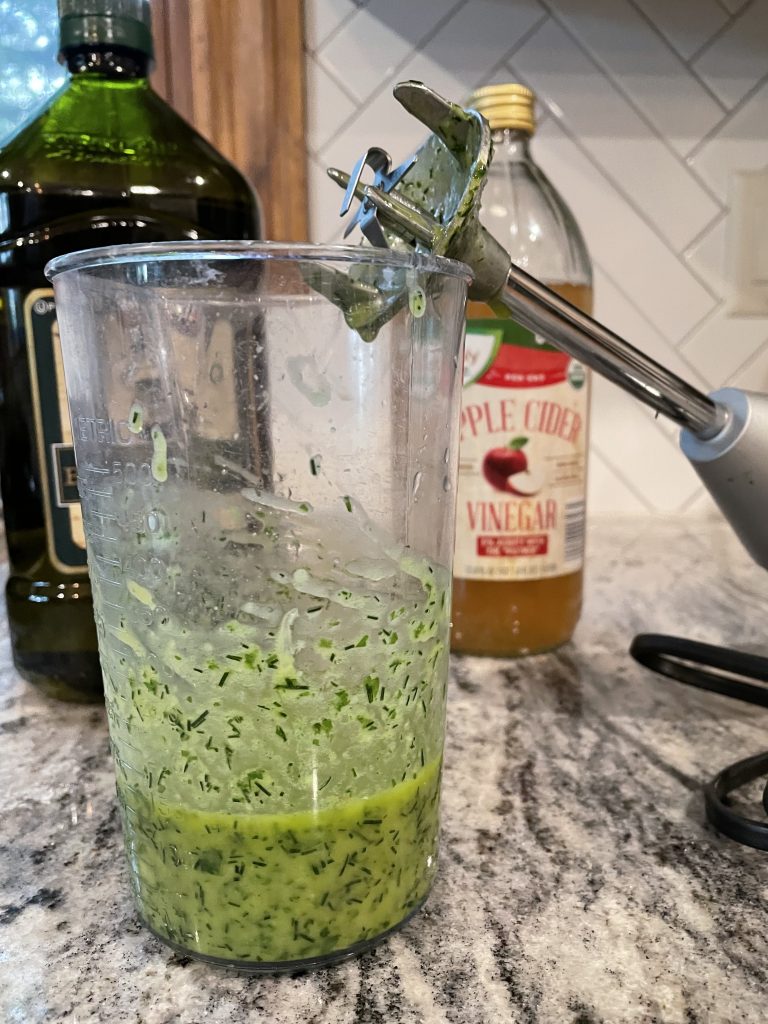 Green Herby Dressing
Ingredients
6 T olive oil
2 T apple cider vinegar
1 garlic clove, sliced or chopped
1 large bunch of herbs of your choice (parsley, dill, cilantro, basil, oregano, chives, etc)
Salt & Pepper to taste
Directions
Remove stems of the herbs.
If you are using an immersion blender or blender, combine all ingredients except the salt and pepper in the blender or a small bowl. Blend until combined and the herbs are finely chopped.
If you are not using an immersion blender or blender, finely chop the herbs and garlic. In a small bowl, whisk together the olive oil, vinegar, chopped garlic and herbs.
Taste and season with salt and pepper. You may also add a touch more vinegar to taste.