This recipe for strawberry margarita jam is perfect for when you are bored of making strawberry jam, or when you simply need a change of pace from the ordinary. Give it a try, I don't think you'll be disappointed.
How to use this jam
I always love to make special jams, but then I sometimes find myself wondering what to do with jam that doesn't really belong on a peanut butter and jelly sandwich. What? No tequila on a PB&J? However, I am not opposed to having this on an English muffin for breakfast. Other ideas to use this jam as a topping for a lemon tart or bar, swirling into a cheesecake or as a cheesecake topping. I'm thinking a key lime cheesecake would be especially fun. Or using it as a filling with a little lemon curd in teeny tiny little tarts. If you have any other suggestions, please leave them in the comments.
When I'm making unique jams, I like to process them in cute little jars and then I plan to gift several of them at the holidays or as gifts throughout the year. You probably won't want four or five jars of this in your pantry. Or, then again, maybe you will. It's that good.
Tequila? In Jam? Yes, really…
When I was making this batch, the tequila smelled a little strong, but it mellowed out nicely in the final product. Do not be afraid! I can only imagine that the flavor will only get better as the jam ages a couple of weeks. Make sure to sample your tequila as you are cooking, otherwise what's the point of cooking with liquor?
I chopped my lime zest into teeny tiny pieces so that it disappeared into the jam. You can barely tell it's in the end product. That's a good goal to aim for – no one wants tiny bits of lime zest in their teeth. Zest your limes (it took me three limes) before you juice them.
Low sugar, sweetened with honey, and a little on pectin
Strawberries don't have a lot of natural pectin in them, so I use a bit of commercial pectin to help this jam set nicely. Most pectins on the market require lots of sugar to work or they use ingredients that produce an off-flavor. That leads me to why I use use Ponoma Pectin in this recipe to set the jam. It's a bit hard to locate commercially, but totally worth the effort. Ponoma's allows me to use a lot less sweetener than regular pectin. If you haven't used this type of pectin before, I recommend checking out their product. I get nothing from them for sharing their product info – it's just a product I prefer in my jam making.
You may also notice that we are using honey in this recipe instead of granulated sugar. I love the flavor of honey with the sweet strawberries. Again, the ability to use honey is because we are using the Ponoma's Pectin. Most other pectin products won't work with honey, so read your package directions carefully if you try to swap out the pectin brands.
The low sugar and short cooking time allow the flavor of the strawberries and lime to shine through the final product. It really does taste like a strawberry margarita.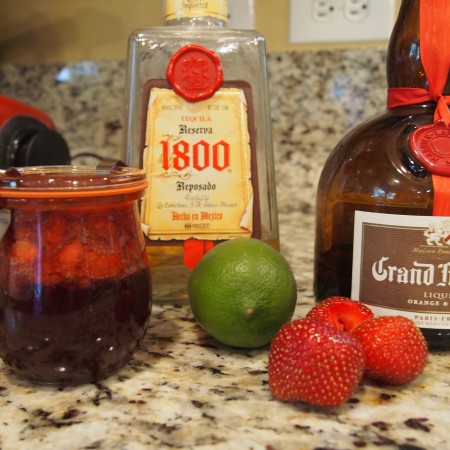 Strawberry Margarita Jam
Honey sweetened and a short cooking time – allow the flavor of the strawberries and lime to shine through the final product. It really does taste like a strawberry margarita.
Ingredients
3

cups

crushed strawberries

1/3

cup

fresh lime juices (about 3 limes)

1/2

cup

tequila

1/4

cup

orange liqueur

1

tblsp

lime peel

finely chopped

2

tsp

calcium water

(from Sonoma's package)

1

cup

honey

2

tsp

Sonoma's pectin
Instructions
To sterilize the jars, place rack in the large pot and cover jars in water. If you don't have a rack, fold a dish towel and place on the bottom of the pot before you put the jars and water into the pot. Place lid on the pot and bring to boil, turn down the heat and simmer for 10 minutes. After 10 minutes, turn off heat and leave the cover on the pot. This can be done while the jam is made. NOTE: A boiling water bath can be done in any stock pot that allows for water to cover the jars by at least 1-inch. A tall stock pot is fine to use, just place a towel or rack in the bottom so the jars don't sit directly on the heat source. If your stock pot doesn't fit all of your jelly jars, only jar up the ones that will fit in the pot, keeping the rest of the jam warm on the stove while the first batch of jars processes. Once the first jars are done processing, jar the remaining jam and process in a second batch. Alternately, you can just jar any extra jam to eat right away or freeze. 

If you are going to process the jars in a water bath, prepare the lids according to the directions on the box – usually just wash and place in warm water. I do this in the small saucepan on a back burner. 

Combine room temperature honey and pectin in a small bowl and stir to combine. Set aside.

Combine strawberries, lime juice, tequila, orange liqueur, lime peel and calcium water in large saucepan, jam pot, or stock pot. Bring to roiling boil, stirring constantly.

Add honey and pectin to strawberry mixture. Bring back to boil, stirring constantly. Boil and stir for 1 minute or until honey is completely dissolved. Remove from heat.

Fill hot jam jars with 1/4 inch headspace.

Clean rims and place lids on jars.

Process in a boiling water bath for 10 minutes.

Allow jars to cool completely before checking seals and storing.